Chainsaw with 46.5 cc (2 kW) petrol engine and 45 cm (18") cutting bar.
46.5 cc petrol engine with a net power output of 2 kW
45 cm (18") cutting bar
Chain speed of 23.1 m/s
Net weight of 6.64 kg without bar and chain
Vibration control system (VCS)
Tensioning wrench supplied
Product details and specs
Robust and powerful, providing high levels of efficiency and reliability. The STIGA CS 750 (18")chainsaw is powered by a 46.5 cc (2.1 kW) petrol engine and has a 45 cm (18") guide bar. It also features a magnesium engine cover which ensures robustness, reliability and quick cooling. Maintenance operations can be performed quickly and easily thanks to a number of features; such as the tool-less handle on the air filter cover without the need for additional tools, the tensioning wrench located under the rear handle and the fuel tank level monitoring window. The ergonomic soft-touch handle and spring system ensure reduced vibrations and greater comfort.
A step up for you to work in larger garden environments or be engaged in multiple tasks and for longer sessions.
Robust tools
Tougher jobs
Prolonged sessions
Diversified works
What's in the box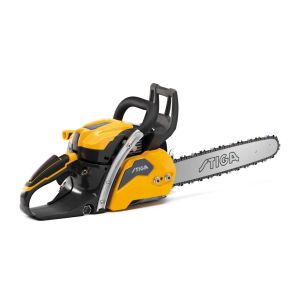 CS 750 (18")
Petrol chainsaw
lensScrewdriver Chain round file Spark plug key
Technical specs
Power source
Petrol 2-stroke
Engine rotation speed
12500 rpm
Maximum engine speed
12500 rpm
Idling speed (+/- 100)
3100 rpm
Carburettor type
Butterfly valve
Ignition coil type
Digital
Chain type
.325" .058" (21BPX-72X)
Chain brake
Manual and inertial
Chain oil tank capacity
0.26 l
Chain oil pump
Automatic adjustable
Chain tensioning system
Side screw tensioning
Vibe Control System (VCS)
Yes
Included tools kit
Screwdriver, chain round file, spark plug key
Vibration level front handle (m/s2)
4.85
Vibration level rear handle (m/s2)
4.86
Guaranteed sound power level (LwA) - dB(A)
115
Measured sound power level dB(A)
111.7
Measured sound pressure level at operator ear dB(A)
99.6
Product weight without bar and chain
6.64 kg
Support
What kind of protective gear should I use?
Trousers, jackets and gloves, all made out of cut-resistant material, safety shoes and a protective helmet with sound attenuating ear-muffs and a protective visor are ideal equipment for cutting wood. Among the parts and accessories indicated for this model, there is a wide selection of products which can be used for suitable gear. We recommend that you exercise the utmost care as well as wearing appropriate clothing when using this type of machine, and that you bear in mind the importance of consulting the manual when you make your choice.
What kind of maintenance should I carry out?
To ensure that the machine is functioning correctly and to guarantee maximum longevity of the machine, we recommend that you clean the air filter, the spark plug and the compartment located behind the bar cover regularly (depending on the frequency and intensity of use): these are areas in which dirt and sawdust constantly pile up. We recommend that you constantly check the chain oil level inside the tank in order to always ensure that the cutting tool is properly lubricated. Next, make sure that the chain is always sharp, and if not, sharpen it or take it to an authorised service provider to have it sharpened. We remind you of the importance to consult the manual to familiarise yourself with every detail of these operations.
How are the bar and chain lubricated?
In order to guarantee perfect functionality, the bar and chain of this cutting device require constant lubrication. To this end, the machine is equipped with a chain oil tank, which should be constantly monitored to ensure that the fluid never runs out. The oil is pumped automatically, and in this model, you can adjust the intensity of the flow.
How can the chain be sharpened?
Every machine is supplied with a metal rod which you can use to sharpen the chain yourself. This method required you to sharped each tooth individually. Before you start sharpening the chain yourself, we recommend that you carefully consult and follow the detailed instructions which are found in the manual. The STIGA dealer network offers sharpening services if you prefer to have your cutting device sharpened by a professional. You can also see an overview of the services STIGA offers in this area by consulting the Parts and Accessories section of this website.
How often should the chain be replaced?
The chain will wear down, and how quickly this happens will depends on the frequency and intensity of use, as well as the type of wood cut.
When the cutting performance remains poor despite sharpening, you will need to replace the chain. You will find compatible replacements among the parts and accessories on this page.
Which replacement chain should I use for this petrol chainsaw?
We recommend that you replace the original with a new STIGA chain. Each chainsaw model can fit specific types of chains, depending on the characteristics of the machine and the bar length. To know which type you should use with this model, we recommend that you go to the parts and accessories section on the website, or else refer to the manual.