Self-propelled lawn mower with 163 cc petrol engine suitable for cutting and collecting grass clippings with a supplied 80 litre grass collector.
163 cc Honda petrol engine
Rear-roller drive
53 cm cutting width
80 litre grass collector
Product details and specs
The STIGA Twinclip 55 S-R H BBC self-propelled lawn mower with a 163 cc Honda GXV 160 OHV petrol engine has a net power output of 2.87 kW @ 2800 rpm. It has a rear roller to create a perfectly striped lawn. The hybrid steel and aluminium chassis ensures strength and durability. The special Blade Brake Clutch (BBC) lever on the handle can quickly disengage the innovative double blade without turning off the engine, making it easy to empty the grassbag and move across paths and gravel. The exclusive Extra Collecting (XC) system and the ergonomic One Motion cutting height adjustment system provide ultimate user comfort. This mower has been specially designed for cutting and collecting grass in the large 80 litre collector. The cutting width is 53 cm. The centralised cutting height can be set using a lever to 8 positions ranging from 13 to 65 mm. The convenient triggers on the handle allow it to be easily adjusted and folded.
Our most powerful and featured products, with customised performance thanks to the many functions and accessories: you don't need to be a professional, these products make you an Expert.
Durable tools
Superior power output
For really intense working environment
Customisable performance
Most responsive control
Technology
open_in_full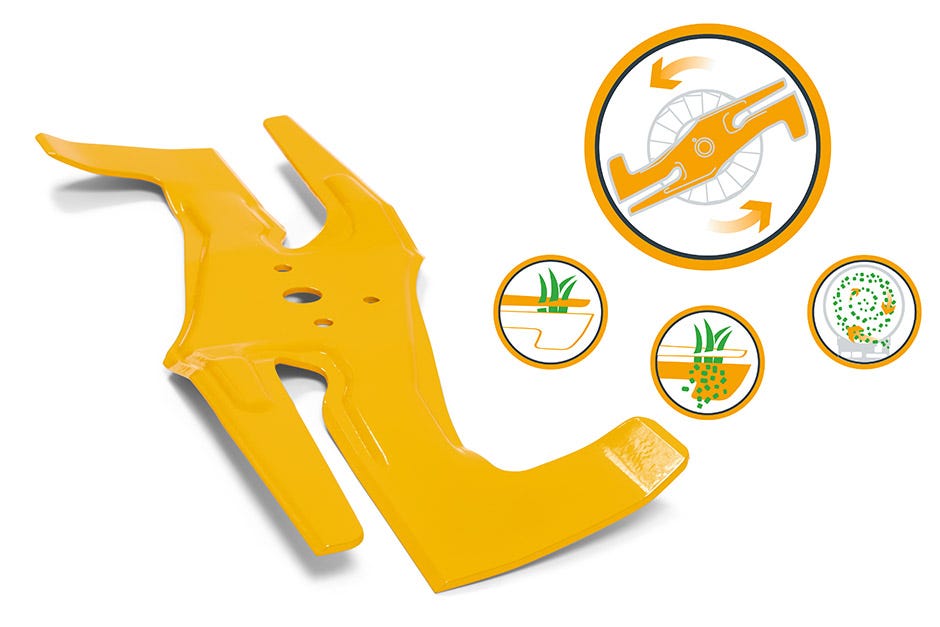 Twinclip blade
STIGA's patented double-layered Twinclip blade performs a double cut, turning clippings into useful mulch. While the deck's raised shell boosts the airflow – for maximum grass bag capacity, and minimum energy use. Win-win for you and the planet.
open_in_full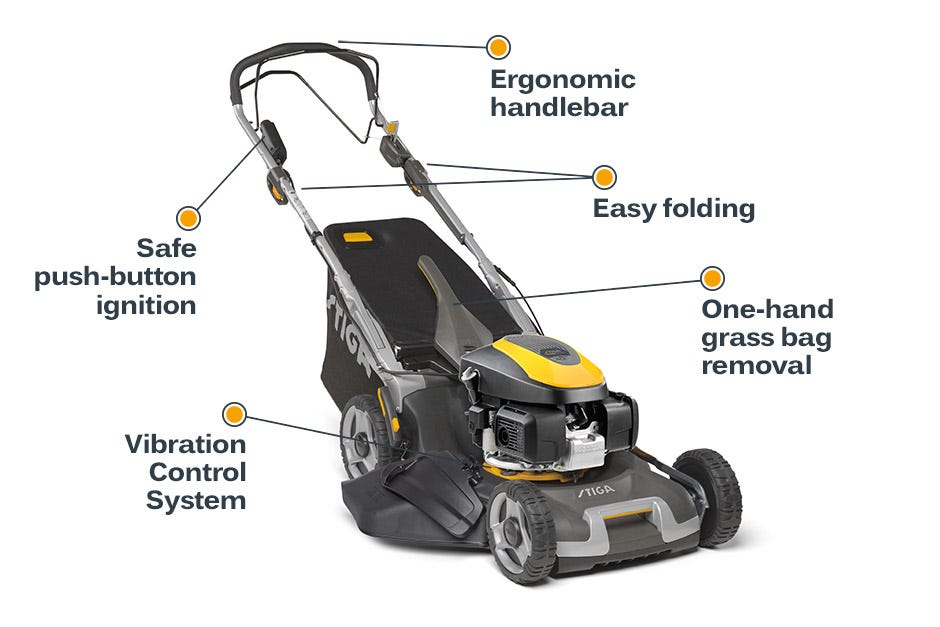 Twinclip platform | Patents
STIGA's Twinclip lawnmowers boast five patents. There's the safe push-button ignition to avoid accidental start-ups. Vibration Control System for more comfortable mowing. And an ergonomic handlebar with easy one-hand grass bag removal and reattachment.
What's in the box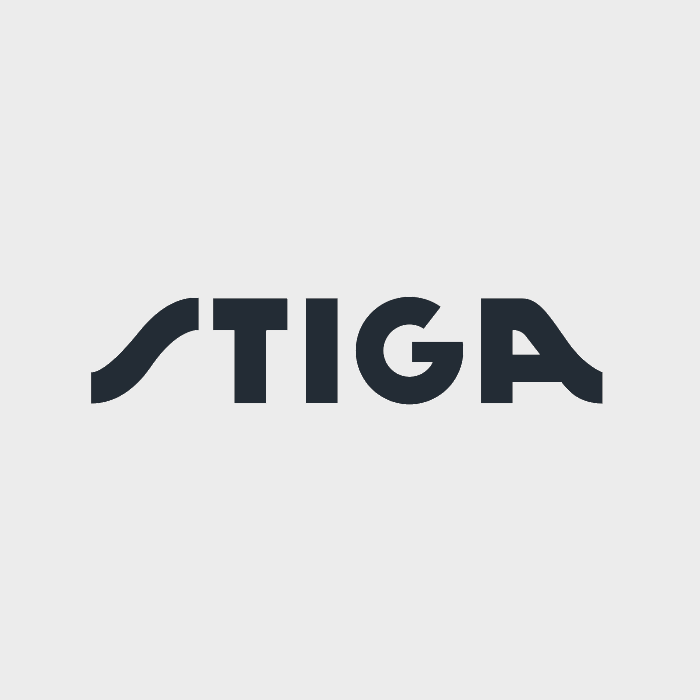 TWINCLIP 55 S-R H BBC
Petrol lawn mower
Technical specs
Engine rotation speed
2800 rpm
RPM control
Accelerator on handlebar
Engine Oil tank capacity
0.65 l
Deck material
Galvanized steel
Cutting height adjustment
Centralized
Cutting height positions
8 positions
Cutting height range
13 - 65 mm
Traction
Rear-roller drive
Handlebar type
Ergonomic 25 mm adj. by button + soft grip
Wheels
200/ROLLER grooved wheels on ball bearings
Blade Brake Clutch (BBC)
Yes
Vibration level hand (m/s2)
4.6
Measured sound pressure level at operator ear dB(A)
86
Measured sound power level dB(A)
98
Guaranteed sound power level (LwA) - dB(A)
98
Support
How should the lawn mower be cleaned after use?
We recommend cleaning the lawn mower in the normal way after each use. Before washing the lawn mower, we suggest that any residual grass or top soil is removed using the special STIGA scraper, which can be purchased separately.
Next, the inside of the chassis can be washed with water: connect the hose pipe to the washing link and follow the steps described in the user manual.
Which fuel and engine oil are recommended?
You should use petrol as fuel. In terms of engine oil, we recommend using the specific STIGA oil, which can be purchased separately. This will guarantee the best engine performance and optimal lubrication.
This lawn mower has a rear roller. What is this for?
The rear roller is designed to flatten the grass in the lawnmower's direction of travel to create the classic "stripes" and give the effect of an "English" lawn.
What is the cutting height set to?
The cutting height can be adjusted according to desired grass length. If the grass is very long, we recommend first mowing the lawn with the cutting deck in a higher position. Then, mow the lawn a second time with the cutting height set to the desired grass length. For information on cutting height positions, refer to the "Technical specs" section. Read the instruction manual carefully.
How should the oil level be measured?
To correctly measure the oil level, you need to make sure the lawnmower is on a flat surface, unscrew the cap which has a built-in dipstick for measuring, clean off any oil on the dipstick and reinsert it without screwing it in. Take the dipstick back out and check the level, which must lie between the MIN and MAX values. Top up, if required, and screw the cap back on. Full details can be found in the engine manual.
Where can I purchase a new blade?
When purchasing a new blade, we recommend that you contact an authorised STIGA dealer. To find your nearest retailer, go to the "find a distributor" section of the website's main menu.