Battery robotic lawnmower
The STIGA Stig robot mower gets to work on your lawn while you get on with your life. Compact and lightweight, STIGA Stig navigates gardens of all shapes and sizes – manoeuvring easily around narrow spaces, trees and bushes. When powered by a 5Ah battery, it's perfect for lawns up to 1200sqm, while a 2.5Ah battery is more than enough for 600sqm. It's also refreshingly easy to use, featuring an intuitive keypad and Bluetooth connection, so you can instruct STIGA Stig from your smartphone.
Mows up to 1200sqm (5Ah battery) or 600sqm (2.5Ah battery)
Choose between scheduled cutting session or spot cut, if you need STIGA Stig to immediately start cutting
Intuitive keypad and controls
Obstacle sensors protect the whole family
Bluetooth-enabled for smartphone control through the STIGA StigA app
Powered by 5Ah or 2.5Ah battery – sold separately
Product details and specs
The STIGA Stig robot lawn mower cares for your garden in the same way you would – only without the legwork! With a 5Ah battery, it mows up to 1200sqm on one charge, or 600sqm with a 2.5Ah battery. Just 55cm long and weighing less than 9kg, STIGA Stig can manoeuvre effortlessly around obstacles without marking your lawn. What's more, because it's perfectly balanced, it copes easily with bumpy ground, and can ascend slopes up to 24°. STIGA Stig's two electronic 'brains' (power board and logic board) learn when and where to cut. For your safety, its soft-obstacle sensors stop STIGA Stig in its tracks the moment it encounters any obstacle. The rain sensors also send it back to the docking station at the first sign of rain. You can even connect it to your smartphone, and control its cuts and schedule, using the STIGA Stig app. Through the app, you can also set up to 5 Go-To-Cut points, meaning the points on the wire where STIGA Stig will start mowing from - in order to give your garden, whatever it looks like, an even cut. Then when the work is done, simply lift the top cover, and wash it down with a garden hose - thanks to the IPX5 protection, you can always keep your STIGA Stig fit and clean to be seen.
A step up for you to work in larger garden environments or be engaged in multiple tasks and for longer sessions.
Robust tools
Tougher jobs
Prolonged sessions
Diversified works
Technology
open_in_full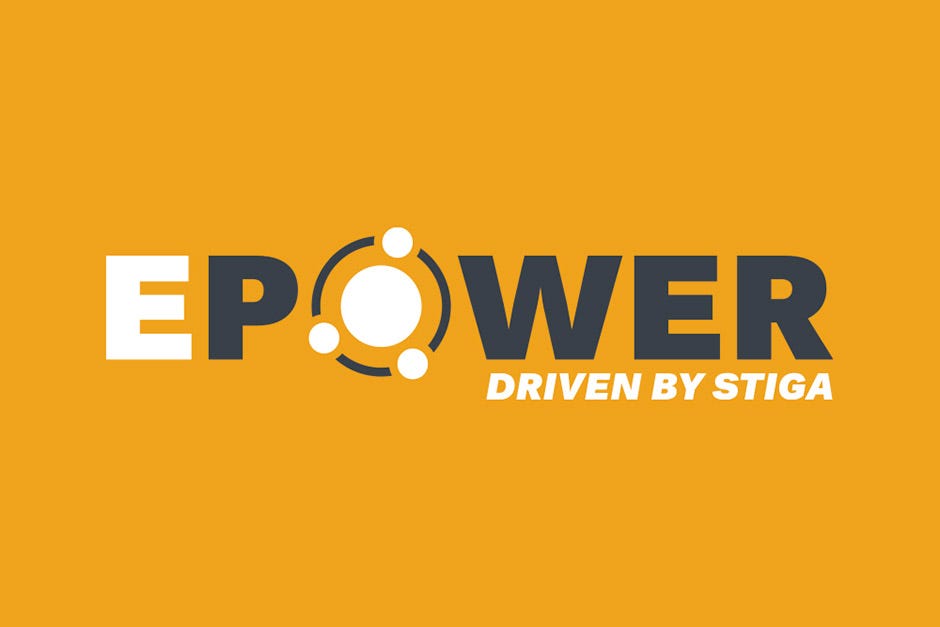 STIGA E-Power
Smart, safety tested and synched with STIGA products, E-Power is the next generation in battery power. Each battery is individually developed to fit its product. It even 'talks' to the tool it powers, saving diagnostics data to maintain peak performance.
What's in the box
STIGA Stig
Battery robotic lawnmower
lensDocking station
lens7 Docking station pegs
lens1 Tool for docking station pegs
lens2 Docking station wire connectors
lens2 Wire connectors
lens4 Blades + 4 Blade screws
Technical specs
Maximum working time
140 min
Power source
Lithium-ion battery
Maximum working area
1200 m²
Cutting height range
20 - 60 mm
Blade type
4 Pivoting blades
Maximum cutting speed
22 m/m
Eco-mode
According to Power kit
Back to charge
On wire / Run Beside Wire (RBW)
Maximum slope near the border
20%
Standard equipment and Installation
Base protection cover
Optional
Obstacle detection sensors
Yes
Support
Stig is an autonomous robotic lawnmower that cuts the grass within an electic boundary. The perimeter wire tells the mower where the edges of the lawn are. Stig is a mulching mower which means it does not collect the grass but instead the finely cut grass clippings are scattered onto the lawn that then decompose acting as a natural fertiliser. Programmed to trim the lawn at scheduled intervals, it automatically knows when to return to the charging station.
Can it cross private driveways?
Yes, Stig can navigate across footpaths that are at the same height as the lawn or that sit no more than 2 cm above it.
Does the perimeter cable have to be buried in the lawn?
The cable is either fixed to the lawn by plastic fixing nails or it can be installed a few inches below the soil. The start and end sections of the wire are attached to the charging station which is connected to a power supply.
I have a beautiful flowerbed and trees which I want to protect. Is that possible?
Yes, during the installation the guide wire can be installed around trees and flower beds that will constrain Stig to specific cutting areas.
Does Stig work in the rain?
Yes, Stig is able to operate in the rain; however, we recommend that you activate the rain sensors as mowing wet grass can ruin the lawn. When the sensors detect rain, Stig will then automaticlly return to the charging station and wait for the next working cycle.