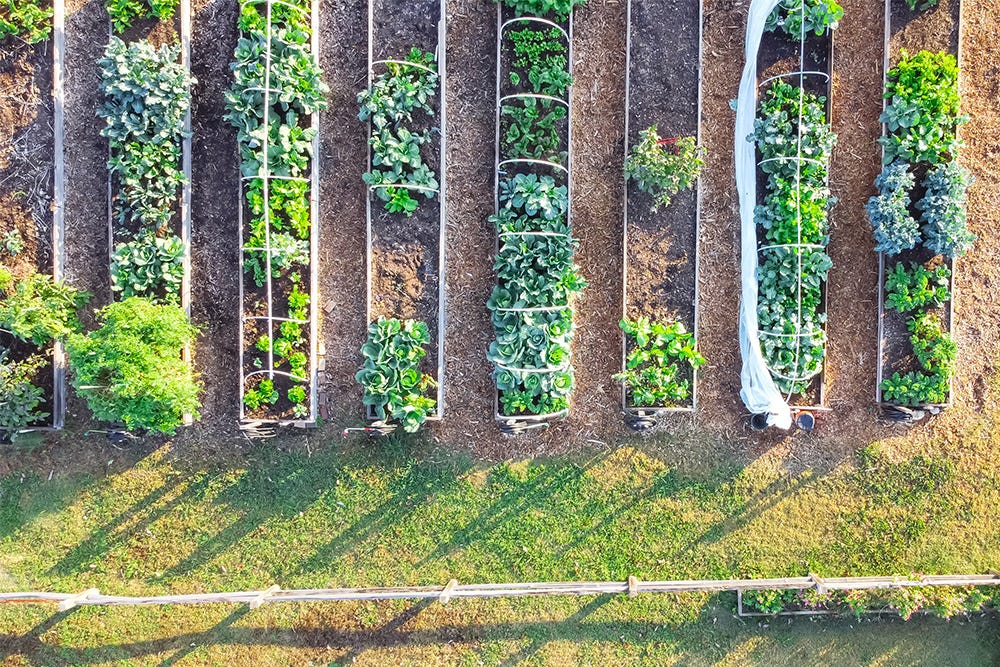 Early spring is a good time of the year to get everything ready – and will give you the chance to have vegetables or flowers growing within a few months.
1: Start small
It may seem tempting to create a large vegetable patch, but starting small – and in one area at a time – is the best way to figure out what you can realistically manage. If you don't have a big garden or lots of space, you can:
Make your beds as small as 1m2

Grow vegetables in raised beds or in containers on the patio
2: Choose the correct spot
Most vegetables need plenty of sun, so figure out which part of your garden gets the most light during the day. Avoid starting a vegetable patch in a heavily shaded area or where there are lots of trees or tall plants, as this means your plants may struggle to grow. The perfect spot should also be:
On level ground with no slope so it's simple to manage

Not too exposed – vegetables need to be protected from the wind and rain

Easy to reach with a hose or watering can
3: Plan ahead
Planning your vegetable patch on paper can be a great way to see if everything will fit. You can also use this time to make lists of the tools, equipment and seeds you need.
If you'd like to grow flowers, sweet peas, roses, sunflowers and gladioli, they can all be planted alongside your vegetables and will make your garden (and home) look and smell wonderful.
4: Prepare the ground
First, get rid of any stones and weeds from the soil. Next, make sure you prepare it well. Keep in mind that:
It may be worth finding out how alkaline or acidic your soil is with a home pH testing kit.

If it has a high content of clay or chalk, your vegetables may grow better in raised beds than in the ground.

Most vegetables grow in neutral soil – just make sure you add well-rotted organic matter to the mix, like compost or manure.

It's important to rake the soil very fine and level before planting seeds.
5: Choose simple-to-grow vegetables
If you're new to growing vegetables, or you'd like to get children involved, it's best to start with crops that don't need a lot of upkeep and attention. Easy-to-grow fruit and vegetables include potatoes, courgettes and green beans, as well as beetroot, radishes and strawberries.