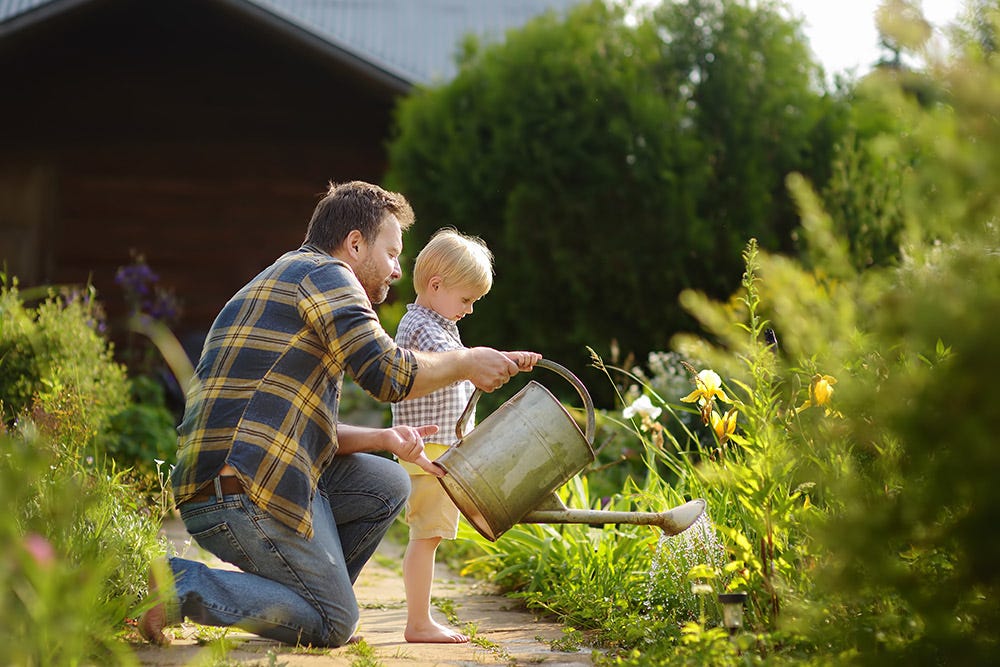 As the days get longer and sunnier, you'll be at your busiest – weeding, planting and mowing. But just as summer is a time for rapid growth, autumn and winter are when plants and trees bed down. So as the year draws to a close, it becomes more about preparing and nourishing the ground. Over time, you'll discover what works best in your garden – and plenty of reasons to get out into the fresh air and enjoy nature.
Spring-clean and plant
The moment green shoots burst through, buds appear on branches and bulbs appear, you know spring has definitely sprung. Now is the time to sow flowering annuals and decide how you want your borders to look.
Plant new herbaceous plants and shrubs

Lift and divide perennials (such as ornamental grasses, asters, irises and heleniums) to prevent them spreading and crowding other plants

Get a head start on weeding and mowing – feed borders with compost mulch

Prune roses, cutting to within 8cm of the previous year's growth

Sow hardy annuals (like marigolds, poppies, sunflowers, chrysanthemums and sweet peas) straight into raked soil

Sow more delicate varieties in a heated propagator and only plant outside after the last frost
Jobs for summer
Summertime is when growth picks up pace. There'll be an abundance of leaves and colourful flowers tempting bees and other insects to pollinate them. Weed regularly and ensure everything is fed, watered and looking tidy – then simply sit back, relax and enjoy your garden at its flourishing best.
When the flowers have finished, prune back spring-flowering shrubs

Sow seeds of perennial plants and propagate new ones by pushing cuttings into pots of moist, gritty compost

Start feeding, watering and deadheading herbaceous plants and roses

Mow regularly, raising the cutting blade height in dry weather to help grass withstand higher temperatures and prevent sun scald

Stake the stems of tall perennials such as delphinium and top-heavy peonies to appreciate the blooms before they flop over
Wind down for autumn
Autumn is when wildlife searches for hibernation sites in fallen leaves. Berries and hips ripen. And while growth starts slowing down, plants such as verbena, rudbeckias and Japanese anemones continue to flower and brighten up shady spots with some late-season colour.
Bring tender plants indoors before the frosts

Plant spring bulbs, deciduous trees, bare-root shrubs, roses, hedging plants and climbers

Don't cut off seed heads – leave these for hungry birds

Clear leaves from the lawn and paths – but keep a pile or two for wildlife

Take hardwood cuttings from shrubs and roses and grow on in pots of compost – these can be left outside in a sheltered area
Take a winter break
The garden is now in its dormant phase, and tasks focus on protecting your plants from the weather and finishing off jobs in readiness for spring. Take time to enjoy evergreen shrubs and trees, the remaining berries and structural plants in the garden.
Raise terracotta containers using pot feet to stop them cracking in the frost

Plan the next gardening year and place orders for seeds

Clean your greenhouse, garden tools and tidy the shed

Compost and recycle dead rubbish

Display winter-flowering plants such as cyclamen and hellebore (Christmas Rose) in window boxes