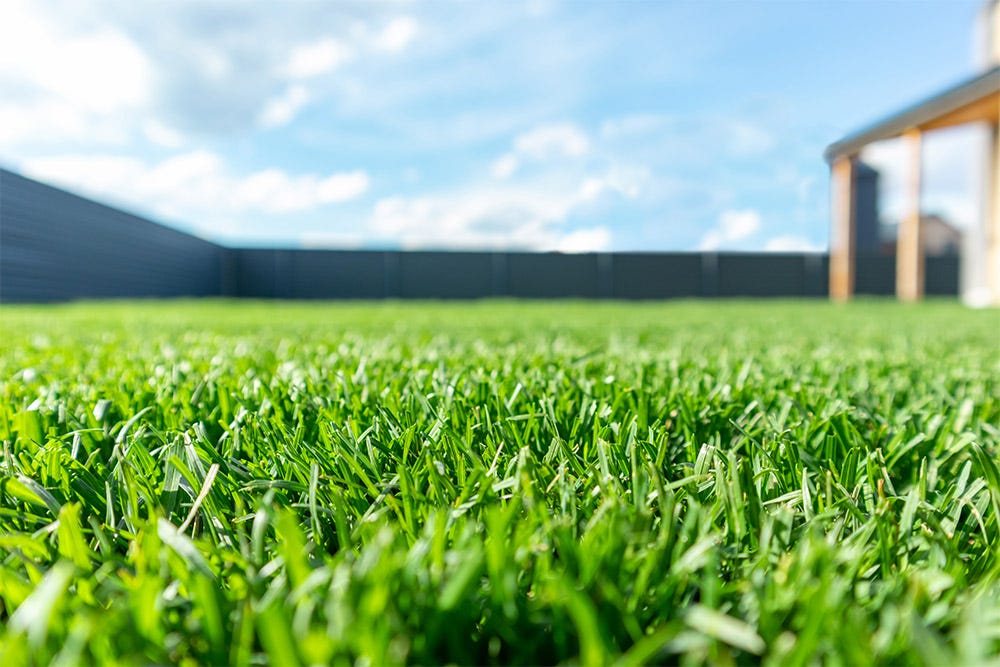 Spring is an ideal time to improve your lawn as grass grows better after winter, once the average temperatures have got back above 7°C. It also gives you enough time to take a 'bit by bit' approach – after all, you want looking after your lawn to be an enjoyable activity, not an arduous task!
1: The first cut
When the weather begins to get warmer, give your lawn its first post-winter cut. Make sure you mow in both directions to catch all blades of grass. If you have a lawn edger to hand, you can neaten any border or path edges.
2: Remove weeds and moss
Dig up perennial leaves like dandelions and broadleaf plantain with a small fork or hand trowel – and keep an eye out for bindweed, which tends to grow around borders. If you have a larger garden, you may find an eco-friendly weedkiller more effective.
Once weeds have been removed, rake off moss and other debris. This helps ensure enough air passes between the soil and the atmosphere – essential for a healthy lawn. If you have a larger garden, you can use an electric scarifier to cover more ground faster than a handheld rake.
3: Aerate the lawn
We often know our gardens well – and can spot where the grass struggles to grow or excess water doesn't drain away. Tend to these parts of the lawn next, aerating any compacted soil by 'spiking' it with a garden fork.
Push the fork around 10 to 15cm into the soil

Move it about to loosen the earth by roughly a centimetre

Move backwards as you spike the grass at regular 15cm intervals
4: Feed and water
Once you've got into a regular mowing pattern (around every two weeks in spring), it's important to feed your lawn regularly.
Leave grass clippings to turn into mulch – a natural fertiliser packed with valuable nutrients

Consider using a slow-release lawn fertiliser to give it an extra boost

Always water after feeding – use stored rainwater if possible
5: Repair bare patches
Look out for any bare patches leftover from winter and repair them soon after you've fed your lawn, removing any weeds and their roots first. Lightly break up the soil and scatter seeds, then cover repaired areas with netting to keep birds away. If no rain is forecast, water these areas and your lawn well with a hose or sprinkler.
6: Tend to new grass
Don't mow these areas until the grass is around 4cm high. Recently-sown patches need their roots firming in to make sure they take to the soil. Do this carefully with your feet or use a mower with a roller, switching off the engine first.
7: Use, repair, repeat
As the weather gets warmer, you're likely to be out in your garden more, and your lawn will still need attention.
Mow and edge regularly

Aerate the soil with a lawn rake in any areas you use frequently to ensure the grass continues to flourish