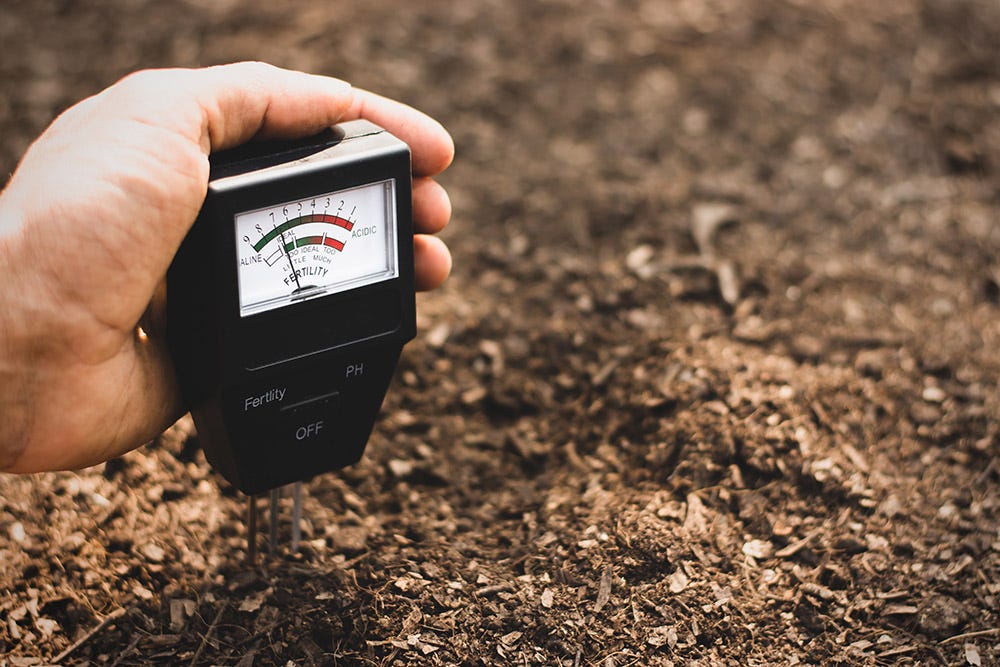 A pH of 6 to 7.5 is ideal for helping bacteria in the soil break down organic matter and release nutrients, such as iron, potassium, magnesium and calcium. The wrong pH can be blamed for certain diseases and plants not developing properly. Potato scab is common in alkaline soil, whereas the fungal disease clubroot is more likely to strike in acidic soil.
Soil testing tips
Soil testing kits are quick and easy to use – some might test for soil nutrients as well. All you then need are some samples from all four corners of your garden to get a truly accurate picture of the soil's pH grade.
Step 1
Collect a trowel-full of soil per sample – making sure this doesn't come from anywhere that's been recently treated with compost, fertiliser or other materials, as these can affect the reading.
Step 2
Pick out any stones and twigs from your sample, put in a shallow container and leave in the sunshine to dry. Then place the required amount of soil into the test tube – usually the one millilitre mark.
Step 3
Drop the barium sulphate powder onto the top of the sample, using the spoon provided in the kit. Then add the chemical solution up to the 2.5ml mark. Put the cap back on the test tube, shake the contents and wait until the soil particles settle below the liquid.
Step 4
Once the liquid has cleared, compare its colour against the pH scale indicator on the chart. Anything low down in the red-orange region is acidic, while dark green at the top indicates an alkaline soil.
Step 5
If your sample matches the light-green pH 7, that's the neutral sweet spot – ideal for a huge variety of vegetables and flowers, from acid-happy azaleas to alkaline-loving lavender. Adding lime will increase the pH level. But if the pH is too high, there's not much you can do, other than digging in many bags of expensive sulphur.
What will the neighbours say?
Have a quick look at what's growing in nearby gardens. Magnolias and rhododendrons love acidic environments, often found in peaty woodlands. Clematis, yew and flowering cherries like it chalky and alkaline. While most fruit and vegetables grow best in a neutral to slightly acidic pH.