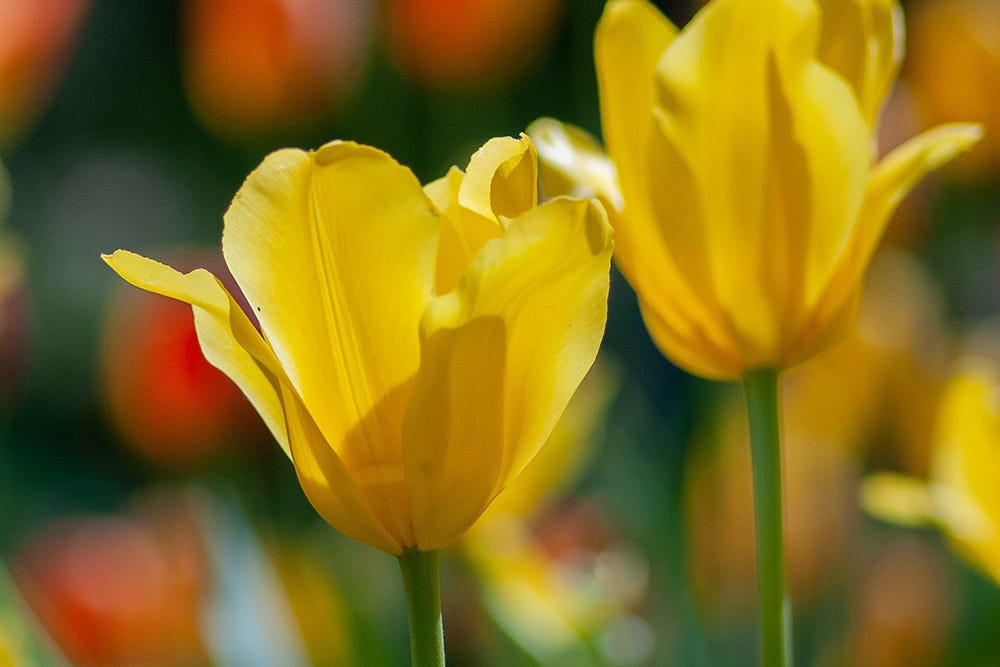 Plant tulips between October and November to give the bulbs enough time to develop a good root system before the ground freezes over. Not only is the soil still moist at this time, but the cold weather helps reduce problems with diseases like tulip fire.
Tulips perform best in fertile, well-drained soil. Find a sunny spot, sheltered from strong winds but with access to at least six hours of direct sunlight per day. We recommend planting bulbs of the same variety in clusters (10 or more) to achieve the greatest visual impact.
Top tips from the gardening expert
· Always check that your bulbs are healthy before planting. Compost or dispose of any soft, wrinkly or mouldy ones.
· Plant tulips two or three times the depth of the bulb below the surface of the soil, and at least twice the bulb's width apart.
· Water thoroughly after planting to settle the soil and encourage root growth.
• Darwin Hybrid Tulips – With their large flowers and 30in stems, these tulips are sure to brighten up your garden. Available in shades of red, pink, orange, yellow and white, they provide up to 5 years of blooms.
• Fosteriana Tulips – Graceful yet sturdy, these early bloomers are known for their large, elongated flowers and slender stems. Look forward to dazzling displays year after year.
• Species Tulips – Smaller than most modern tulips, these long-lasting perennials with their star-shaped petals are perfect for rock gardens or in the front of flower beds. Choose from a range of colours, foliage and heights.