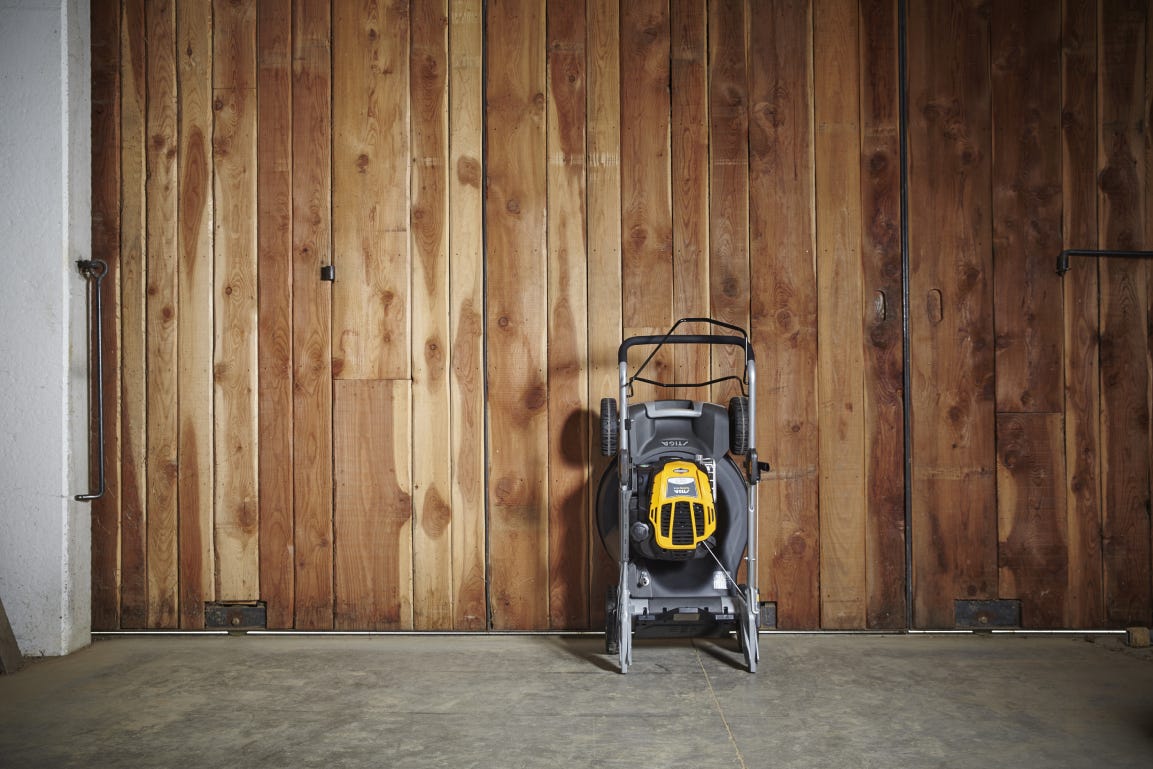 The cold and damp is especially bad news for battery-powered tools which are likely to malfunction if moisture gets trapped inside. The same applies to petrol-powered machines. Organic matter oxidises and breaks down metal surfaces, and any fuel left sitting in the engine risks degrading the mechanical parts.
Whatever type of equipment you own, don't risk the expensive mistake of not cleaning, maintaining and storing it properly. Here are some quick and simple tips on looking after it during winter:
1. Clean
Using a coarse wire brush on metal parts, scrape off any caked-on grass in from your lawnmower. For hard-to-remove dirt, a pressure washer safely and easily does the trick.

Gently rub any rust spots away with sandpaper.

On plastic and rubber surfaces, dip a soft bristle brush into soapy water – workingthen work in circular movements from the top down – before rinsing with clean, cold water.

For battery-powered tools, clean all over with a damp cloth, avoiding any moisture getting in and around the battery port.

Dry the tool, wipe down and polish any metal blades with general-purpose mineral oil, (such as STIGA original oil).
2. Maintain
If you own a petrol-powered mower, run the engine to burn off any fuel in the carburettor. For any petrol-powered garden tools, leftover petrol should be drained and stored in a fuel can.

Top up the oil – or if it's looking a bit dirty or worn out, change it.

Replace any dirty air filters.

Sharpen blades, chains or knives.

For battery-powered garden tools, disconnect the battery from the machine. Charge to full and place inside its storage bag.

Inspect cables and joints for corrosion, cracks or loose bits. From nylon line and trimmer heads to blades, oil and extension handles, if anything needs replacing, STIGA stocks original spare parts and accessories.
3. Store
Place tools in a dry, warm place, such as a garage or outdoor storage unit – as long as it's safe from groundwater and humidity. If you have to store your lawnmower (covered) outdoors, put on house bricks so it's not sitting in puddles.

Cover with tarpaulin or a water-proofed cotton canvas cover. Avoid moisture-trapping plastic sheeting. For smaller garden tools – keep these inside a case or the storage bag they came with.

Wrap lawnmower blades, brush cutter knives and chainsaw chains in an old towel first. This will absorb any dampness while providing protection from any accidental damage from falls or knocks.
Lastly, drain and disconnect outside hoses and sprinklers. Then loop the hosepipe round its holder avoiding kinks that might split into holes when the temperature drops. A little TLC carried out now means that when spring comes around, your garden tools are ready for action.