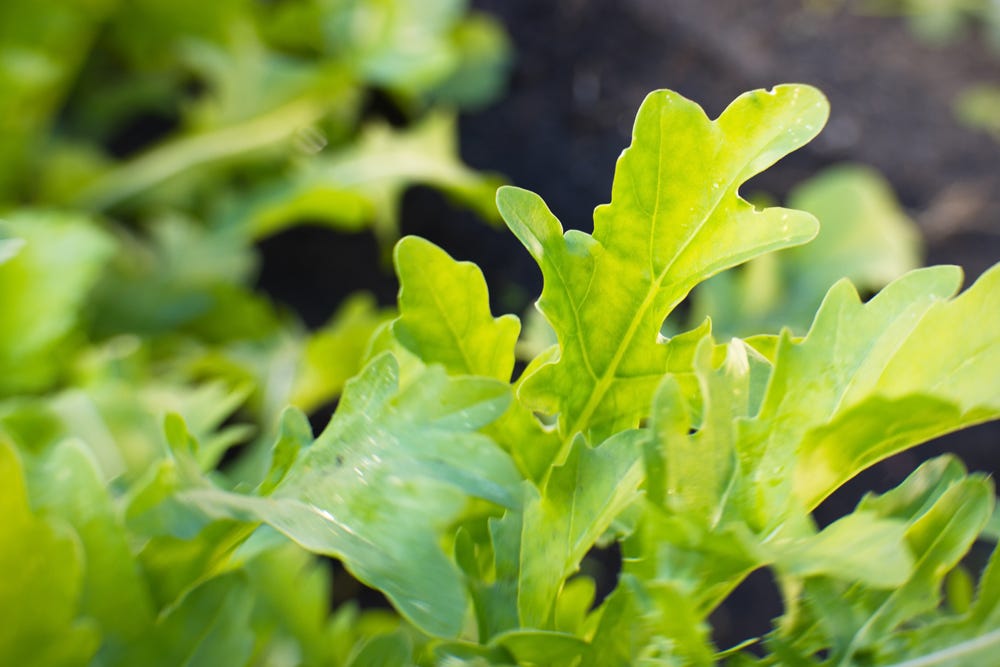 And remember, if it gets very hot and dry, water your beds more often to ensure seedlings and young plants don't dry out.
Nutritious spinach
Easy to grow and hardy against frost and rain. Sow seed in August for a first crop in October. Spinach then goes dormant over winter, ready to provide fresh 'cut-and-come again' baby leaves in early spring.
Sprinkle seeds thinly into shallow drills, approximately 1.5cm deep and 40cm apart, in well-prepared, fertile soil in a sunny spot.

Cover seeds with soil, and water well. And if the weather is still cool, protect with cloches.

Sow a batch every three to four weeks for a continuous crop.
Rocket
You can't beat the peppery tang of rocket for spicing up salads. Sow wild rocket seeds in early August for a continuous crop up to winter's arrival, with new growth in March and April. For late August sowings, the more frost-resistant salad rocket variety gives weeks of rich pickings.
Mark out a row in the soil with a 1-2m long line.

Sow a small number of seeds, spaced about 3cm apart, every two weeks.

Cover seeds lightly with soil, removing any weeds or large stones as you go.

Drench the soil without moving the seeds too much, using a watering can with a rose head attachment.
Year-round cabbage
Ideal for making coleslaw, stir-fries and soups. With lots of varieties to choose from, you could be harvesting cabbage in around 20 weeks, almost all year round. Sow spring cabbages in late summer, and plant out winter cabbages grown from seed in previous months now.
For best results, sow seeds indoors in pots or trays, 2cm deep.

About five weeks later, plant the young cabbages outdoors in a sunny spot, after digging plenty of garden compost into firm, moist, alkaline soil.

Space out the cabbages depending on the type – such as 25cm apart for spring cabbages and 45cm for winter varieties.

Suspend fine netting 1m off the ground to stop pigeons and cabbage white caterpillars eating the leaves.

Use a nitrogen-rich liquid food every fortnight.
Remember forget-me-nots
Add a springtime splash of pale blue. Forget-me-not flowers are great for filling in shady spots beneath trees and shrubs, the front of borders and path edges. They also add a natural-looking touch among tulips, wallflowers and hostas.
Sprinkle seeds in trays filled with compost. A heated propagator or a warm windowsill will encourage germination.

Prick out seedlings and pot on. Flowers will appear the following year.

It self-seeds easily, so either let forget-me-nots spread naturally, or lift and replant where you want them.
Did you know?
To prevent flea beetles nibbling holes in rocket leaves, cover the row with a mini tunnel or length of horticultural fleece.