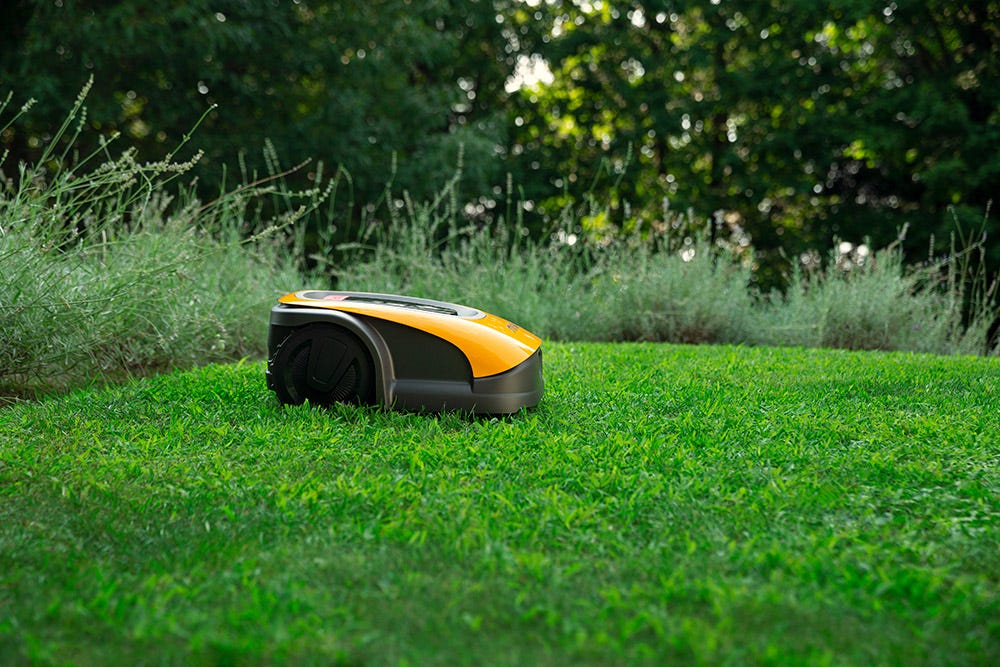 Did you know our robot mower ensures a perfect cut, for a beautiful, healthy lawn all year round?
Using an autonoumous robot mower to mow your lawn is not only convenient, giving you more time to enjoy your garden, it is also better for the health of the grass! Discover more below.
Does STIGA's autonomous robot lawn mower collect grass?
The simple answer is NO, it doesn't.
Let us explain.
STIGA's range of robot mowers are designed to cut different areas of your lawn in a choice of cutting patterns each day, keeping the grass at the desired height. Similar to a mulching mower the grass clippings are finely scattered onto the lawn and decompose, acting as a natural fertiliser - resulting in a lush green and healthy lawn.
Cutting little and often ensures that the minimal grass clippings produced will sit neatly within the grass, giving you a neat finish to your lawn. And with no grass collectors to empty you can leave your robot to quietly take care of the mowing, while you get on with enjoying your garden!
Neat cut, healthier lawn
Our robot mowers guarantee a neat and safe cut thanks to the impressive cutting device. Our robot mowers produce healthier, better looking lawns thanks to several special features such as: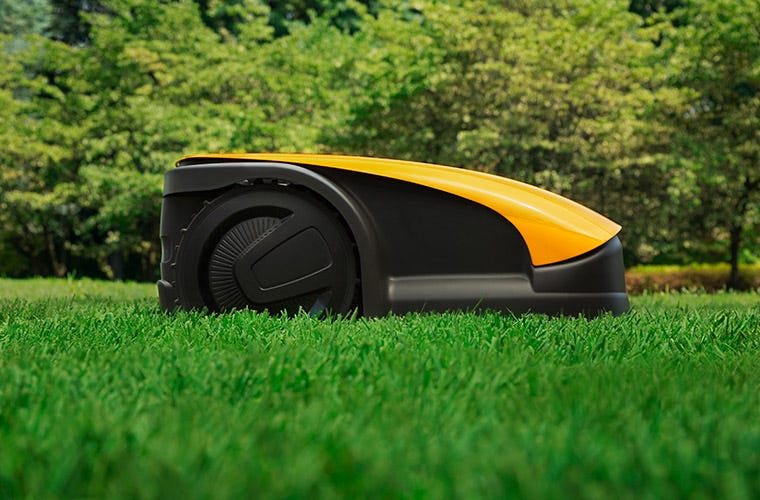 Precise, superior cutting blades
Our smaller robots are equipped with 4 cutting blades and the larger models come with 6 blades.
They rotate at a superior speed, up to 1850 rpm and are longer than average, which means their cutting surface is wider, making their cut more efficient.
Our blades are made of a particolar carbon steel compound, making them much stronger and more flexible at the same time, so they can better withstand impacting stones and obstacles.
STIGA robot mowers offer high-quality and high-performance cuts that stand the test of time.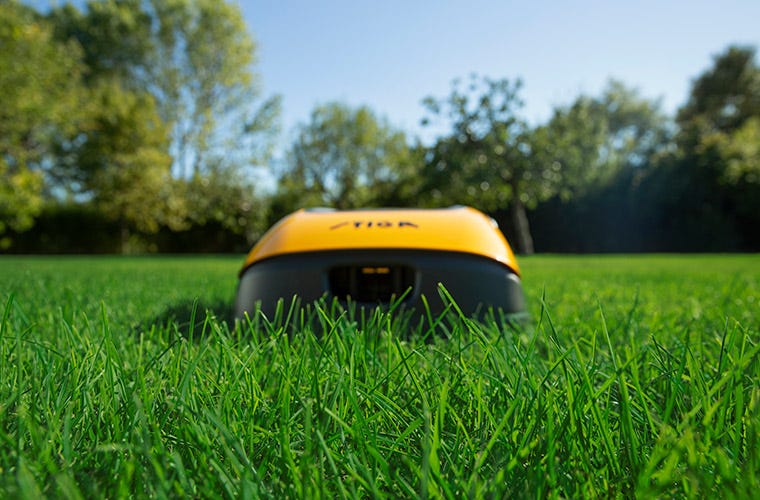 Better looking and healthier lawn
Your grass will look healthier and greener thanks to the superior cutting blades on all our autonomous robot mowers!
The health and appearance of your lawn greatly depends on how you cut it; if the cut is rough or jagged, the tip of every grass blade will need more time to seal and heal, resulting in a dry and yellow appearance to your lawn.
The superior blades of a STIGA autonomous robotic lawn mower provide a precise, clean cut, allowing your grass to recover more quickly between mowing sessions, leading to a healthier and better-looking lawn.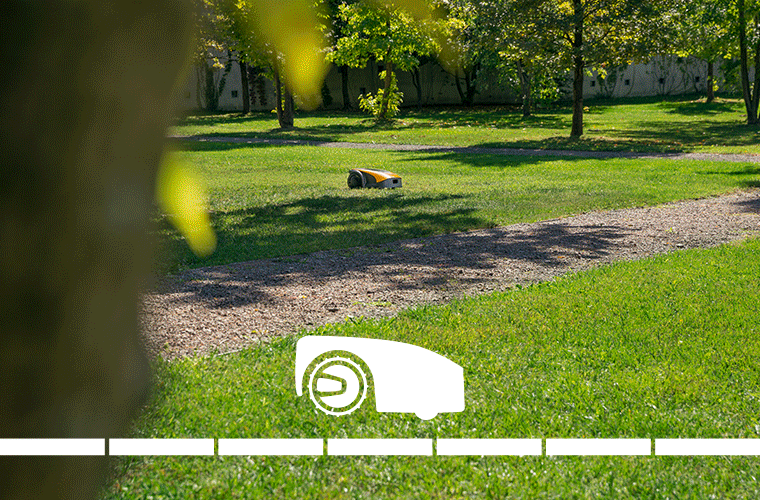 Time to heal: for a healthier, softer lawn
STIGA autonomous robot mowers can maintain your lawn in as little as 2 mowing cycles a day, giving the grass plenty of time to seal in moisture and heal from the 'injury' of the cut between mows. This leads to healthier, softer grass.
If on the other hand a lawn is mowed multitple times a day without an adequate rest period between each cutting session, the grass does not have time to seal in enough moisture, resulting in the grass turning yellow and becoming dry and brittle.
With just two mowing cycles a day - once in the morning and once again in the evening before dusk for example, your STIGA robot gives the grass blades enough time to properly recover, stand up proud again and continue to grow, for a healthy beautiful lawn.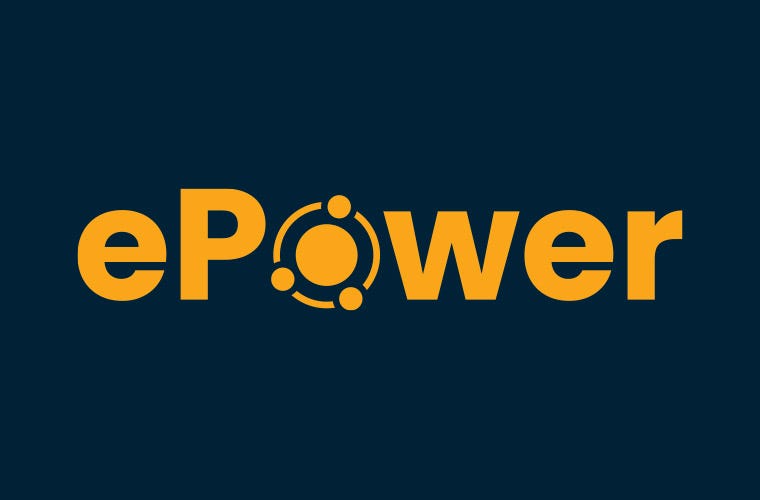 STIGA ePower at its heart
STIGA's patented ePower battery is at the heart of every STIGA robot. Built on premium lithium-ion cells, optimised for reliability and durability. So, even after 1,500 charging cycles – equivalent to around 4 years of use – the battery still operates at over 80% capacity, meaning it's basically new.
One of the best features of the autonomous robot is that it gives you complete freedom to enjoy your garden! It only needs two mowing cycles a day to maintain your lawn, giving you plenty of time to enjoy your special green patch of earth without worrying about a robot working up and down.
Remember that in order to keep your lawn healthy and soft it is important to schedule the mowing sessions with at least 5 hours between one session and the next to allow your grass to recover and maintain the health of your lawn.
Correct maintenance is key
To always have the best possible performance in terms of safety and durability, it is important to pay attention to the maintenance of your autonomous robot mower.
For example, after mowing all season, the blade screws of the autonomous robot mower may be dirty or damaged, which could compromise the cutting ability of the robot mower.
Therefore, before storing your robotic lawn mower away for winter, remember to replace both blades and screws (one kit is included at purchase, further kits are available as accessory both from your local STIGA robot dealer's and from stiga.co.uk) so it is ready for the start of the new mowing season come spring.
Finally, if you need support for the robot App or service, click HERE to find your closest STIGA robot dealer.