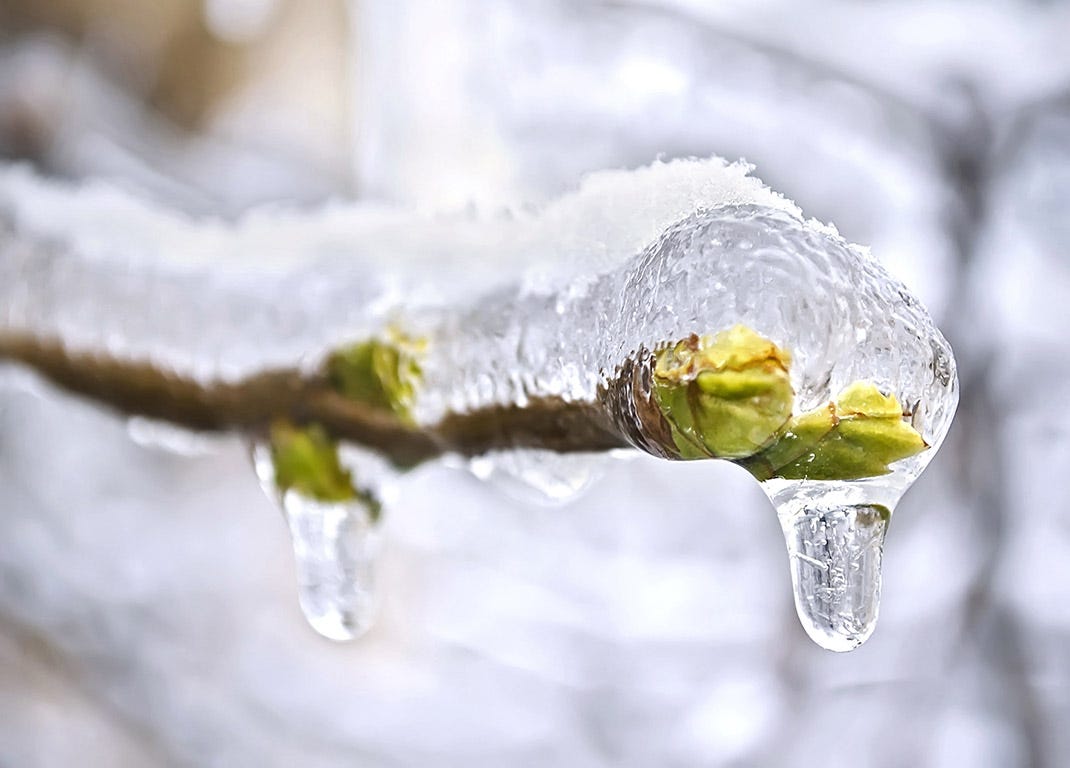 Daffodil and tulip bulbs can happily remain underground during winter, before re-growing their foliage and blossoming in spring. But the bulbs of delicate flowers such as begonias, dahlias, freesias and cannas will die if left outside – so should be dug up and stored indoors.
Put plants under horticultural fleece – this lets in light, air and water while also providing vital insulation.

A temporary cold frame traps heat and is a good way to keep young plants safe from frost.
Bed sheets, towels and even cardboard boxescan cover large plants and shrubs at night. Plastic sheeting is also an option but must never touch the plant or you risk serious frost damage.
How to store bulbs
In containers – trim back dead foliage and store bulbs indoors in a place that's cool, dry and well-ventilated, preferably inside paper bags.
Ground-planted – cut back the foliage after it turns black. Then dig deep to safely lift out the bulbs or tubers and store indoors under dry moss, sand, vermiculite or sawdust.
Look after annuals and perennials
These flowering plants benefit from the ground being well-prepared and nourished – ready for spring and warmer weather.
Snapdragons
Snapdragons simply reseed themselves once their blooms fall off. But when the foliage has died back, you need to insulate the roots from cold shock.
Apply a thick layer of organic mulch made from chopped leaves, grass clippings and wood chips to the base of the plant after the first frost.

As the mulch breaks down, it adds nutrients, moisture and regulates the soil temperature – just remember to push it off emerging snapdragon shoots.
Petunias
Petunias grown outside need overwintering somewhere like a garage or basement area with windows. They can then be transplanted back into the garden in spring.
Cut back plants to about 5cm above the soil and put into containers.

If you spot insects, treat the plants to remove pests before bringing inside.
Check the plants every few weeks and water just enough to moisten the soil.

Take care of tropical plants
Any exotic plants in your garden will be out of their tropical comfort zone during the colder months and require extra protection.


Banana–Hardier Musa basjoo can cope with a mild winter, especially when there's a thatch of straw to protect its crown. But tender species, such as Ensete ventricosum, need potting up and placing under glass.

Pineapple lily– Mulch over the top of planted bulbs. For potted plants, wrap in hessian and move to a sheltered spot.
Protect newly planted trees
Most young saplings, along with citrus trees of any age, are very vulnerable to chilly nights when sudden freezes can be particularly damaging.
Olive trees– Cold winds and severe frosts can disfigure the foliage of these Mediterranean favourites. Protect small potted plants under unheated glass, while using windbreaks or fleece if they're more established.