Meet Gyro
Easy to control, energy-efficient and highly productive.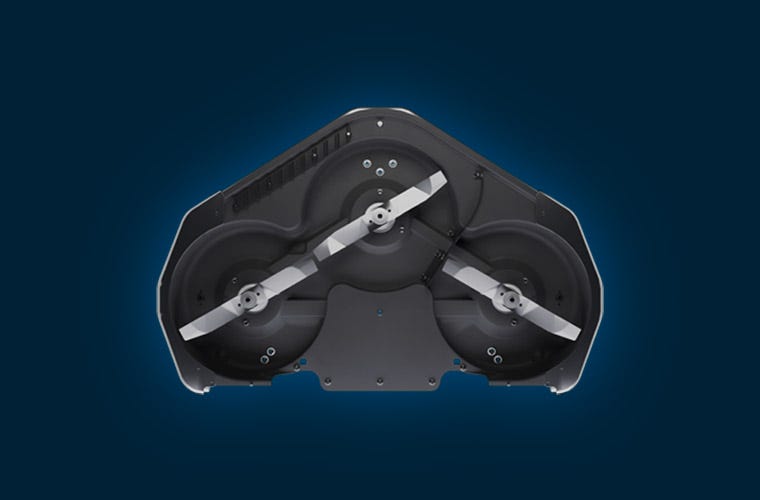 The cutting deck & rear discharge
Based on one of the most appreciated cutting decks in the industry, the Gyro 900e one is a top-quality deck. 125 cm working width and equipped with 3 freely rotating blades (each powered by 1,5 kW motor), with specially designed blades that offer the best-in-class mowing and rear-discharge performance. Low energy absorption, longer runtime.* No belt, no pulley, therefore no maintenance nor power loss. Mulching kit as optional.
*tests performed with STIGA cutting standard. weekly cut of 2.5 cm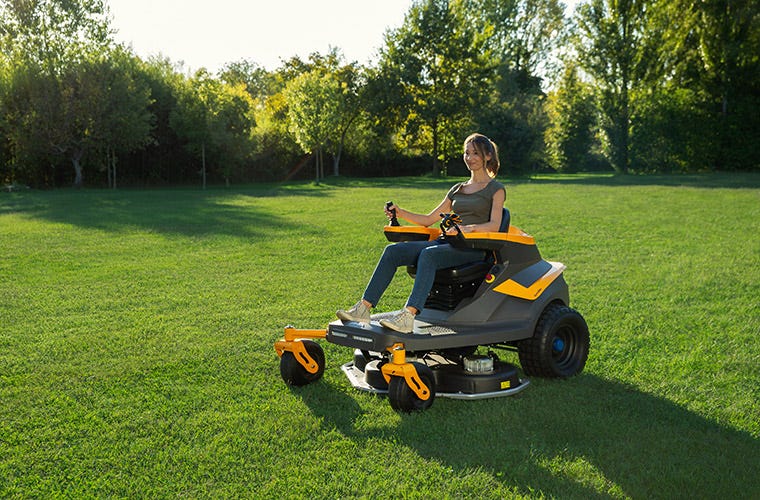 Big surface, tough jobs
A 125 cm heavy-duty cutting deck that can mow a 13.000 sqm area on one charge. Take care of the toughest, thickest grass on wide areas with ease and enjoying a driving experience that's unprecedented.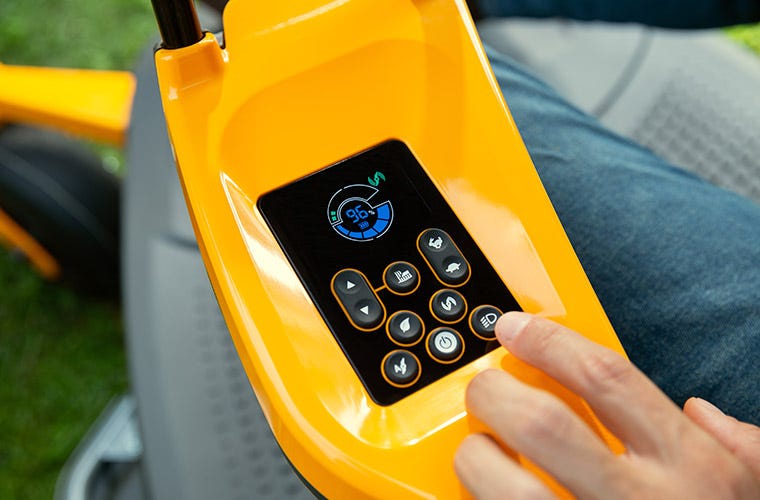 Full electric
Not a single mechanical lever left on Gyro 900e. Everything happens with the touch of your finger, directly from the electronic dashboard on the armrest, effortless and easy. From cutting height adjustment to blade and traction speed, you can manage your machine with a thumb and enjoy the most comfortable and satisfying working session.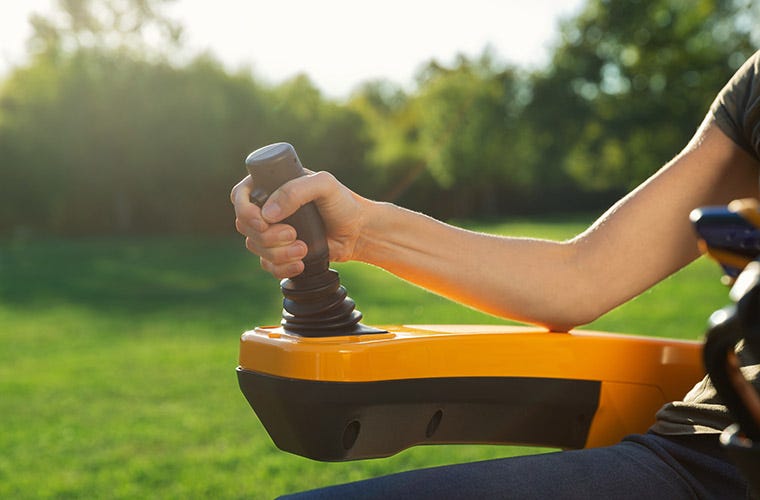 The first drive-by-wire joystick mower with STIGA Direct Drive
Battery-powered, energy-efficient and safe, the STIGA drive-by-wire joystick system is much easier to use for both first-time zero-turn drivers and for those who are used to lap bars.
It's intuitive, intelligent and easy to manage. The whole driving system is smooth but responsive and allows the user to fully govern the machine's direction, steering and speed with the flick of a wrist.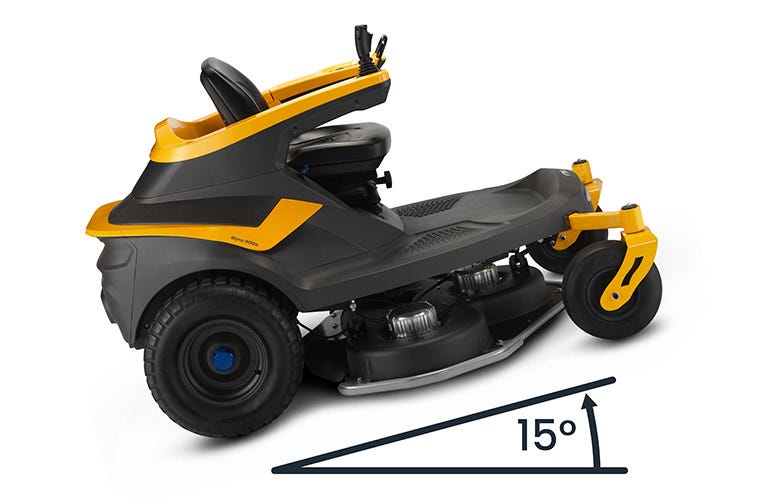 Safety first
With clever weight distribution and a very low center of gravity (just 55.3 cm) Gyro has been developed and tested to operate safely also on inclines up to 15° - but tested to ensure a greater safety margin (roughly +20°) in comparison to the suggested use of the machine.
Safety is further enhanced by electronics that automatically manage speed limitations when working on slopes - and by the patented safety brake, fully integrated within the Direct Drive motors.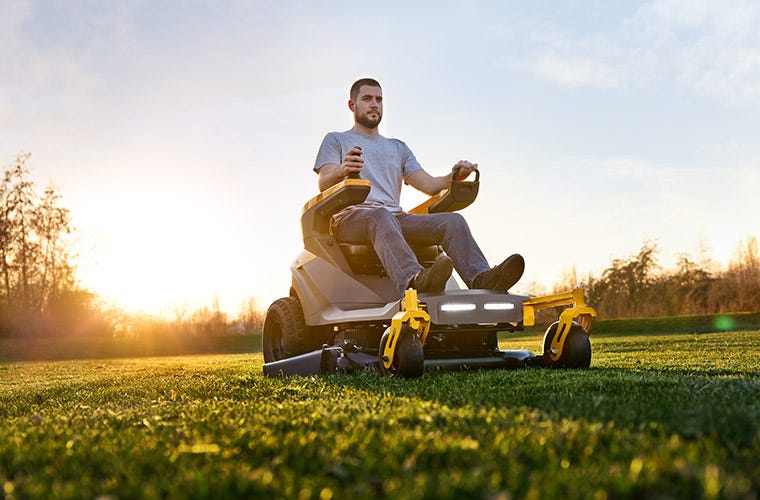 Designed around any kind of user
Stepping in and out of Gyro is easy: a completely unobstructed access and a wide footboard giving plenty of legroom. A complete visibility over the working area and all electronic controls at your fingertips.
For added comfort the high-back-support-seat also has a dual parallel suspension system to absorb vibrations when traveling over bumpy ground.
Real comfort comes from the feeling you get from being safely surrounded by a cockpit that fits around and supports you on three sides-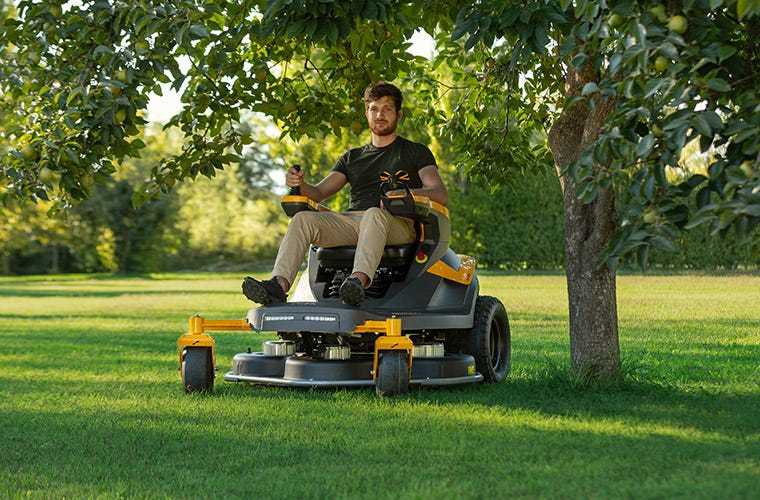 High-area productivity
With up to 125 cm-wide side and rear discharge cutting deck, plus optional mulching kit, Gyro has been engineered for huge lawns.
This is made possible by the integrated STIGA ePower battery pack. It provides up to 120 minutes of runtime - enough for you to mow up to 13,000 sqm on just one charge.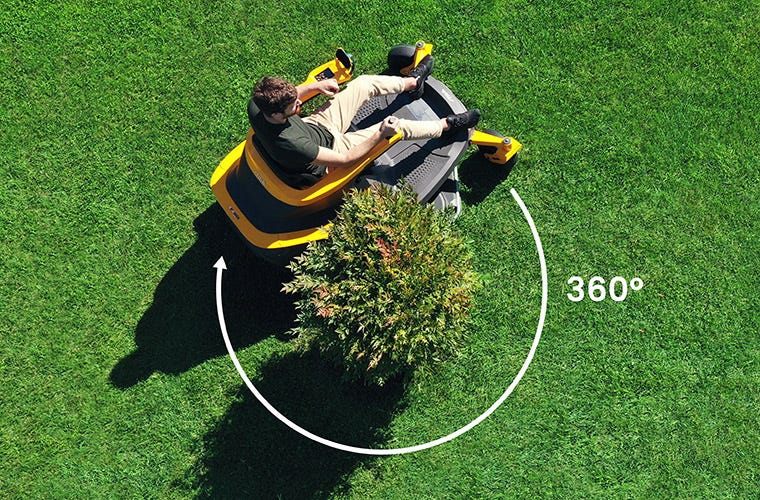 STIGA Direct Drive technology
The STIGA Gyro axial mower is built around its unique STIGA Direct Drive technology. Dual independent electric transmissions, one for each wheel, positioned in line and equipped with powerful 1.2kW brushless electric motors, allowing both a 360° turning radius (no uncut spots) but also the highest energy-efficiency.
To achieve this, STIGA engineers developed the system with a planetary gearbox. In this system, internal loads are better balanced and distributed, so wear and tear is dramatically reduced. When compared to a normal gearbox with the same transmitted power, the Gyro's overall efficiency is above 85% (vs. around 78%).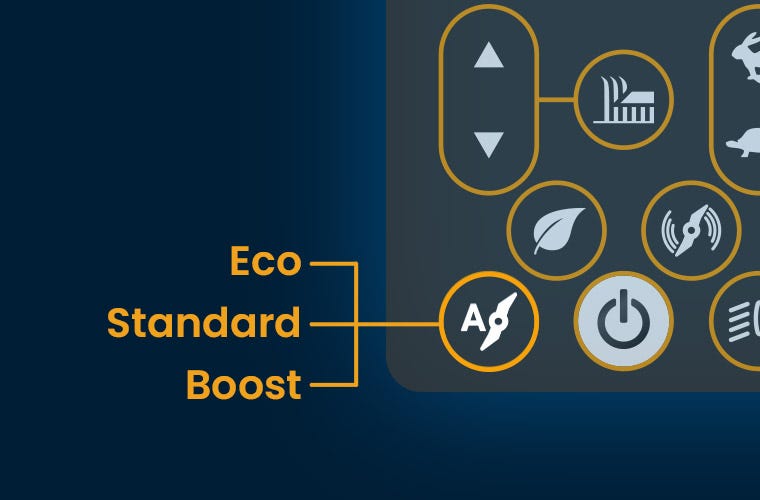 Control over every mowing situation
The deck height can be easily adjusted to eight different cutting positions using the lightweight central lever - only 6 kg to lift out of the total deck weight.
STIGA Smart Cutting Mode allows you to choose from three blade speed settings: Eco (2.800 rpm) for very frequent mowing of soft grass or if you choose to mulch regularly; Standard (3.000 rpm) for the usual weekly sessions and cuts up to 2.5 cm; and Boost (3.200 rpm) for quicker cuts or thicker, taller grass.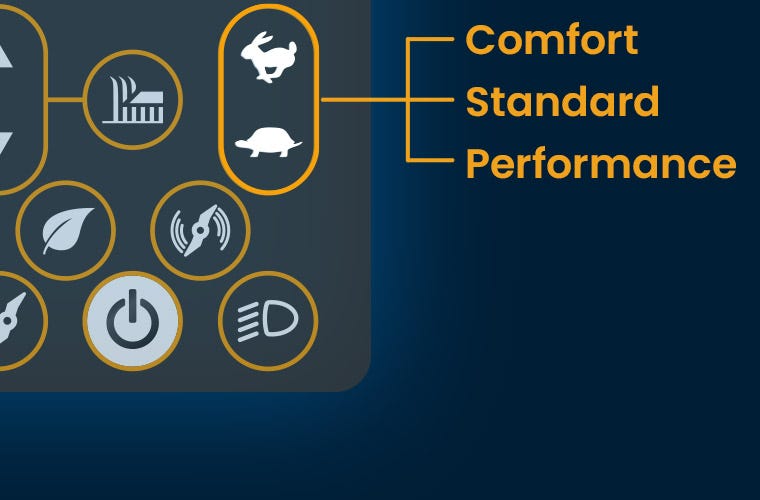 STIGA Smart driving mode
Gyro allows you to combine the cutting and driving speeds to suit a variety of different mowing needs. Choose between Comfort at 4 km/h for a more precise trim. Standard is for your usual cutting sessions. Or Performance, running at up to 13 km/h for the fastest results.
For each of the speeds, Gyro automatically limits the minimum and maximum speeds and applies different acceleration curves. This way, you will always feel comfortably in control and confident - regardless of the speed you choose.

ePower integrated battery pack
STIGA ePower batteries are designed, developed and tested far beyond industry standards to deliver longer run-times and longer life span. They're tested at a 'real-life' usage current to stay strong after 500 charging and discharging cycles. This equates to 10 years of weekly machine usage.
With the highest quality chemistry from the automotive industry - using the larger 21700 cell form factor to be as efficient as possible - STIGA ePower integrated battery cells powering the STIGA Gyro give performance and reliability that's very hard to beat.