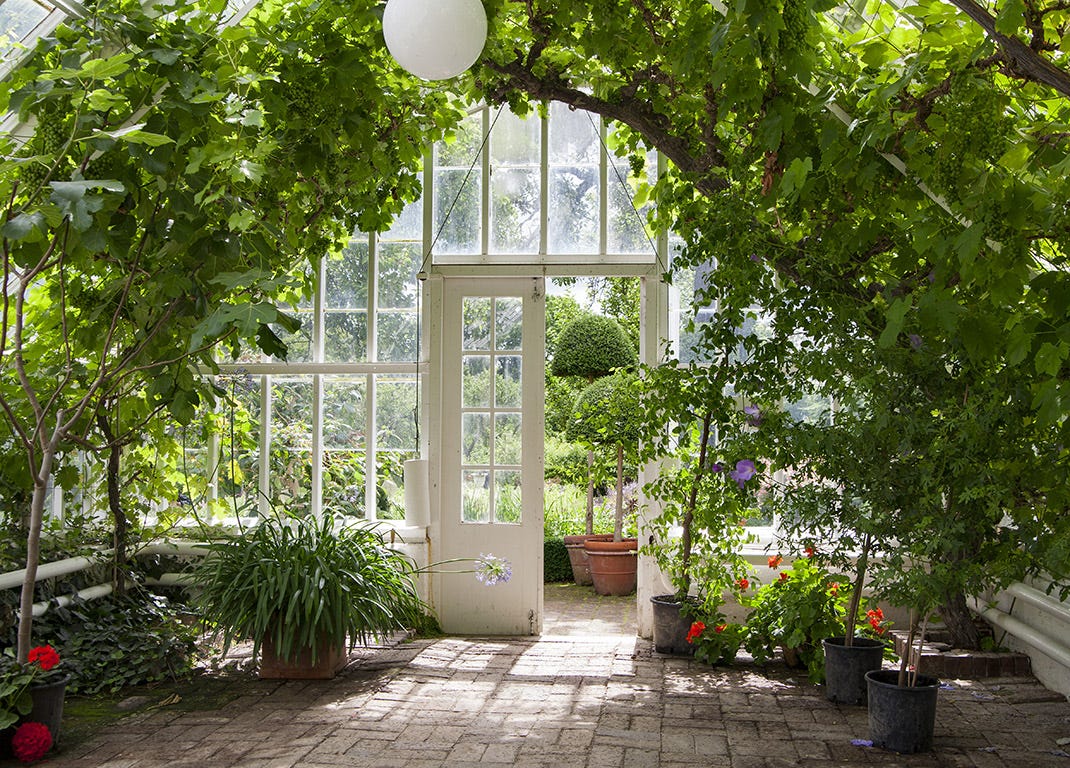 If you predominantly use your greenhouse for spring and summer propagation and potting on, winter is the best time for a deep clean. Set aside a few hours on a sunny winter's day and your plants will prosper. Here's why:
Clean panes allow more sunlight to reach your plants, supporting their strength, growth and vitality.

Removing moss, algae, grime and pests helps to prevent disease from spreading. So your plants have a healthier environment to flourish in.
Step One – Protect your plants
Remove all plants, tools and watering cans from your greenhouse.

Place plants in a sheltered area and use fleece to protect any that are tender. This will help to shield them from the cold while you're cleaning
Step Two – Clean the guttering
Put on rubber gloves and run your hand along the guttering. Remove any debris you find there, such as leaves, and add this to the compost heap.

Check that the fall pipe is free from blockages by running water down it. If you encounter a blockage, a wire coat hanger is a great tool for removing stuck detritus.
Step Three – Clean the structural parts
Remove dirt and debris from the frame, floor and staging with a brush or vacuum cleaner with a brush attachment.

Pay particular attention to corners and crevices as dirt tends to accumulate in narrow areas.

Wash all structural parts with warm water and disinfectant, detergent or a specialist greenhouse cleaner.
Step Four – Wash the panes
Ease out any grime trapped between panes with a flexible scraper. A plastic plant label can double-up as a handy scraper for this.

Wash all glazing on the inside and outside, so the maximum amount of sunlight can get through.

For plastic panes – test a small, discreet area of plastic first to ensure your cleaning product doesn't damage the material.

For glass panes – take care not to apply too much pressure as you clean.
Step Five – Final jobs
Wash the floor. A pressure washer is ideal if you have one. Alternatively, you can use a garden hose, or a mop and bucket filled with warm water and detergent.

Safely wedge the door open to ventilate the greenhouse as it dries.

As soon as everything is dry, bring your plants back in to enjoy their sparkling, disease-free home.