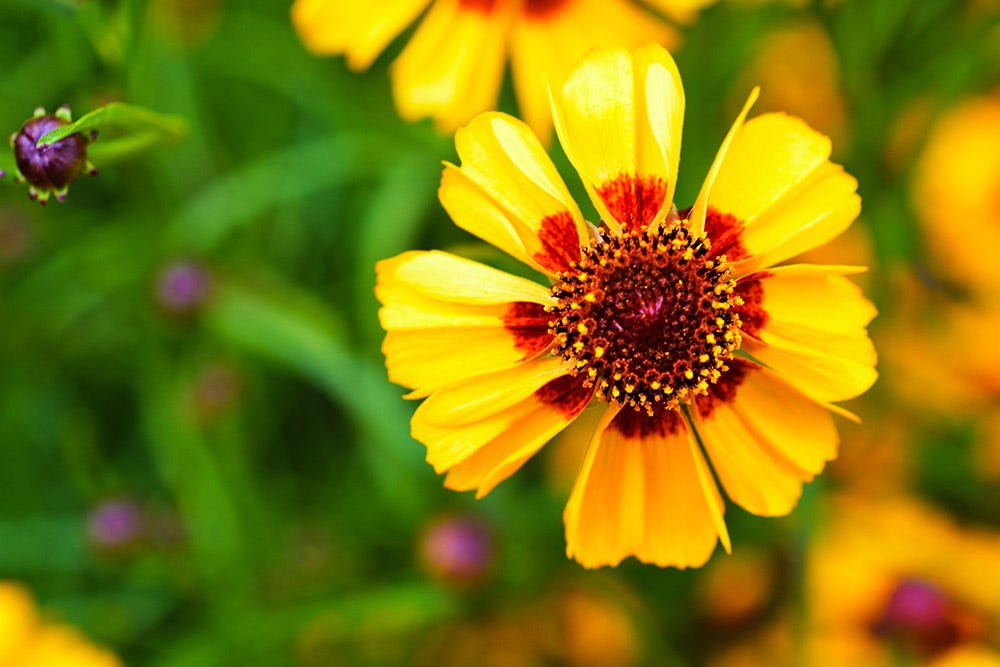 June brings longer hours of sunlight, creating the ideal conditions for sowing and planting. As it tends to be a drier month, make sure you have a good irrigation system in place or are on-hand to ensure that plants stay well hydrated and growing properly.
Flowers to plant
Poached egg plant
This cheerful flower has a yellow centre and white outer leaves which gives the plant its distinctive name.

Ideal for border edges, it's safe for pets and great for attracting bees and other beneficial insects.

Happiest in south and west-facing gardens.
Coreopsis
Coreopsis is a herbaceous perennial with flowers that will return the following spring.

Many varieties boast a vibrant centre and contrastingly coloured outer leaves, which make it a perfect accompaniment to poached egg plant.

Easy to grow from seed and an excellent attractor of bees, pollinators and butterflies.

Space 40-50cm apart and water well until established.

Great for borders and happiest in well-drained soil in direct sunlight.
Night-scented stock
Night-scented stock has lilac flowers which are beautiful during the day and emit a sweet perfume at night.

Best when sown directly as it doesn't fair well when transplanted.

Choose a sunny border and sow lots of seeds to ensure a plentiful display.
Vegetables to plant
Florence fennel
You can sow Florence fennel every few weeks during May, June and July – as soon as the earth has warmed up.

Bulbs will be ready to harvest between August and October – perfect for summer salads and winter meat dishes.

Sow in moist, well-drained soil in shallow trenches and thin to 30cm.

Make sure you water regularly.

Some of our favourite varieties include Perfection, Amigo, Colossal and Cantino.
Pak choi
A wonderful vegetable for stir fries. Pak choi can be sown directly outside in shallow trenches.

It favours partial shade and must be kept well-watered to prevent bolting.

To avoid slugs attacking your seedlings, sow seeds in pots or cells and transplant when the seedlings are 5cm tall.

Horticultural fleece will help protect it from flying pests.
Pumpkins
You may not be thinking about Halloween or pumpkin pie just yet, but early June is the last time to sow pumpkins to achieve a good size and flavour.

Best sown indoors during spring and transplanted to a sunny, sheltered location in May or early June.

A cloche will help protect pumpkins from slugs and snails.

For most varieties, its best to leave at least 90cm between plants.

If space is limited, opt for smaller variety Baby Bear.