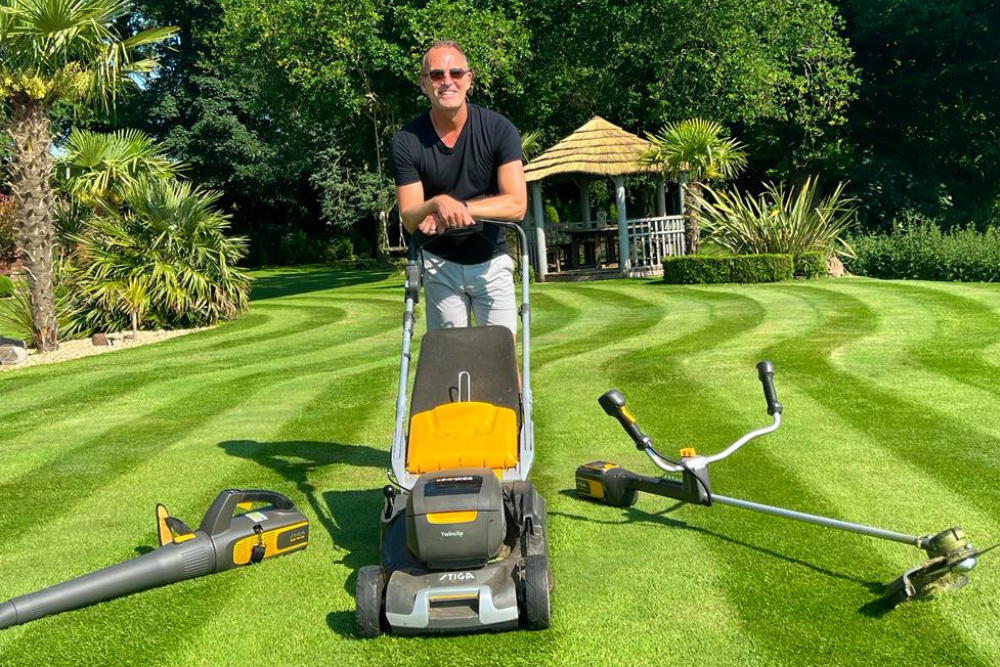 Obviously there are several facets that have to be taken into consideration when maintaining any lawn.
Importantly for starters, I'm not the least bit qualified in advising in soil types, species of grass and other more technical elements to lawn care, I leave this to the specialists.
What I can say is that my tips come from many hours spent in the gardens, learning from my mistakes and sharing the frustrations and having the empathy felt by many as I've painstakingly tried to achieve a fabulous looking lawn over the years.
Here's a few tips that I hope will help: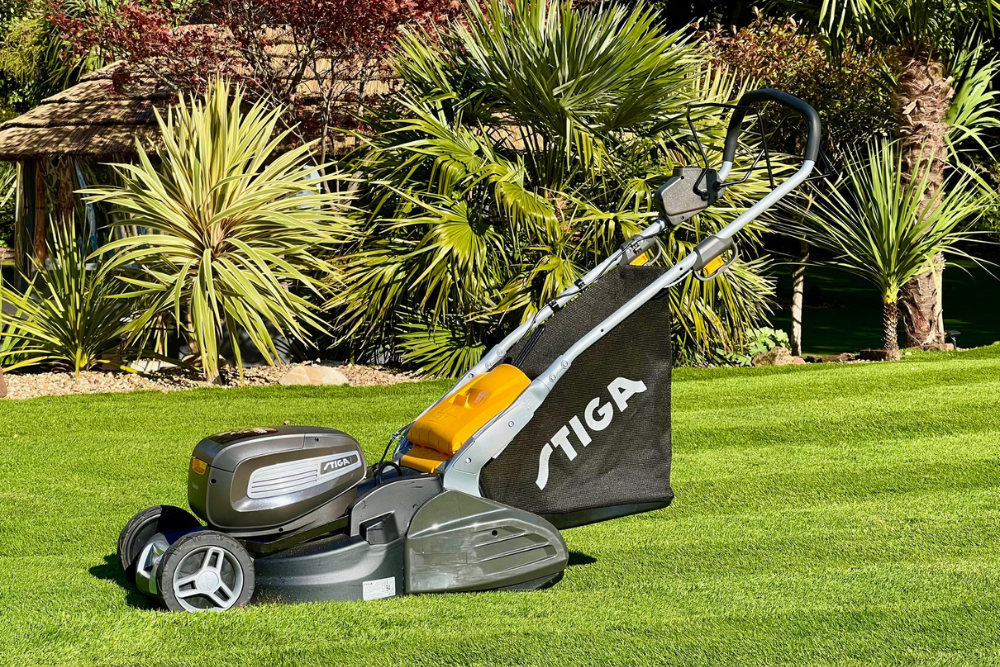 1. The mower!
So essential to buy a mower that has a rear roller to give you those fabulous lawn stripes.
The wider the width of the roller ( I use 55cm) the broader ( and more impressive) the lawn stripe. My cut level changes dependent upon the time of the year and the weather. Ordinarily my setting is on cut height 5 for the Spring and Summer.
NB Do not be tempted to lower the cut height to save cutting the grass as often.
This was the single biggest mistake that I used to make and from the many people that contact me through our Instagram page ( Cheshire Home and Vista) it's commonplace. This approach scalps the lawn and inevitably gives it that 'brown' or scorched appearance.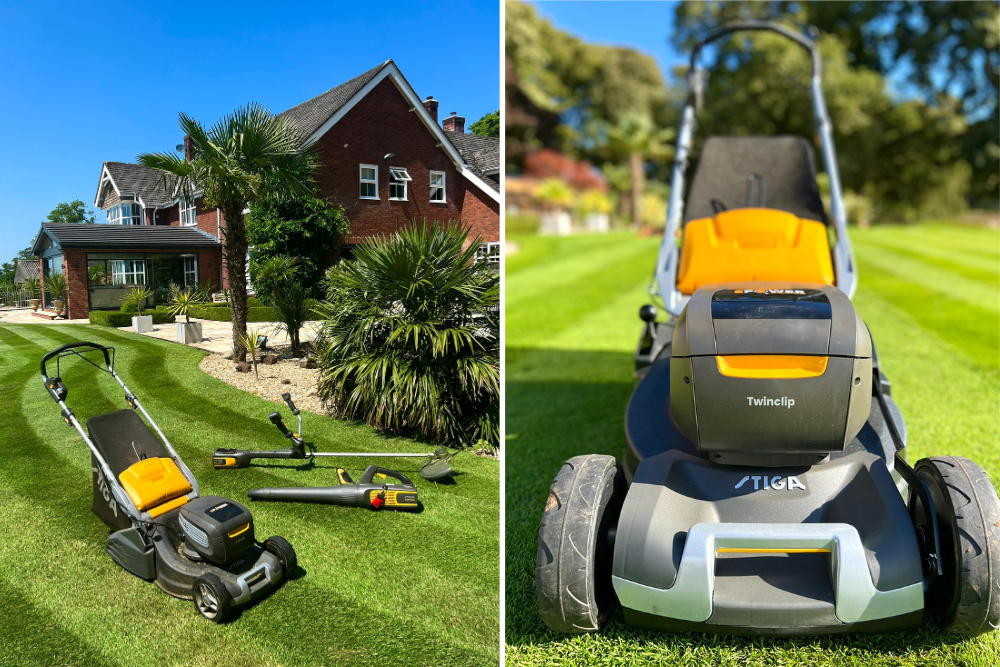 I cannot advocate more strongly how good the STIGA Twinclip 950e VR ePower battery mower is.
It gives the lawns such a clean cut and I just love the speed of the drive train that enables me to cut practically as quick as a ride on mower.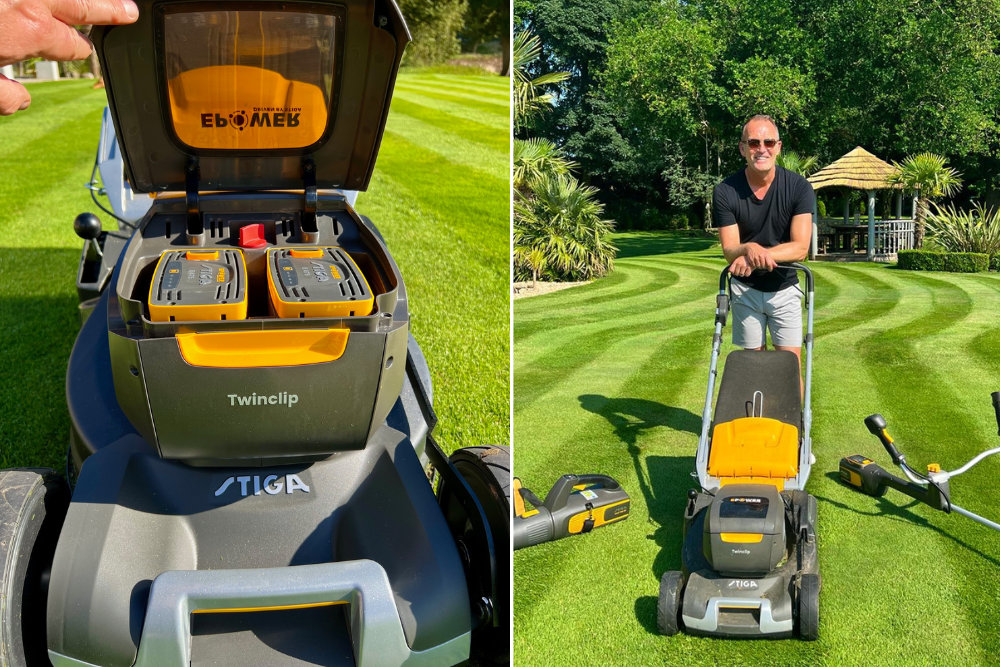 2. Regularity of cut
I totally understand that cutting the grass more often takes more time out of everyone's busy schedules. But honestly, this is the absolute key to achieving a lush looking, healthy lawn.
My mantra of "cutting little and often" is probably the single biggest tip that I could give anyone maintaining their lawns. Just take the tip off the grass each cut.
Cutting the grass once a fortnight in the growing season or when it really looks like it needs cutting will never achieve the desired results.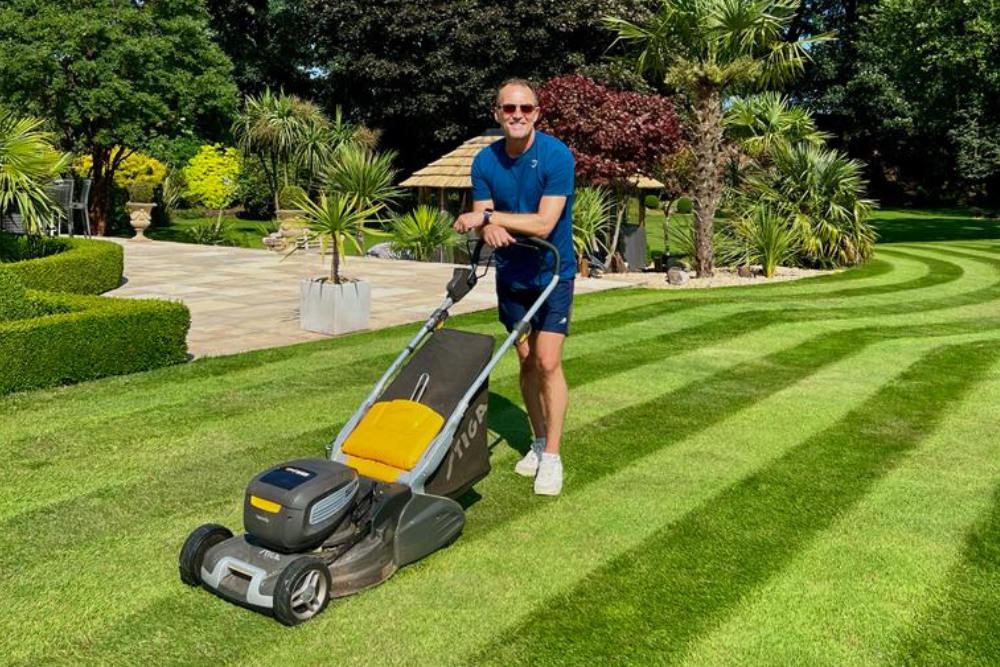 In the height of the growing season I will cut the grass here every other day or at least 3 times per week.
It's a 7km walk each cut as we have around 1.7 acres or lawns, it certainly good for the weekly step count!
Why don't you use a ride on mower is often asked? The answer is that there a quite few slopes and undulations here with lots of intricate beds that make a ride on impractical.
Oh, and most importantly, I need a roller for those stripes!
TIP: If you have an overwhelmingly large area of grass to maintain, pick a smaller part, look after it well and then gradually increase the area coverage over time.
This used to be case here several years ago whereby I'd try to keep on top of all of the lawns but quite literally cut corners to save time.
I always say that it's better for a smaller portion of lawn to look 100% fantastic than it is 100% of your lawns looking below average at 40%!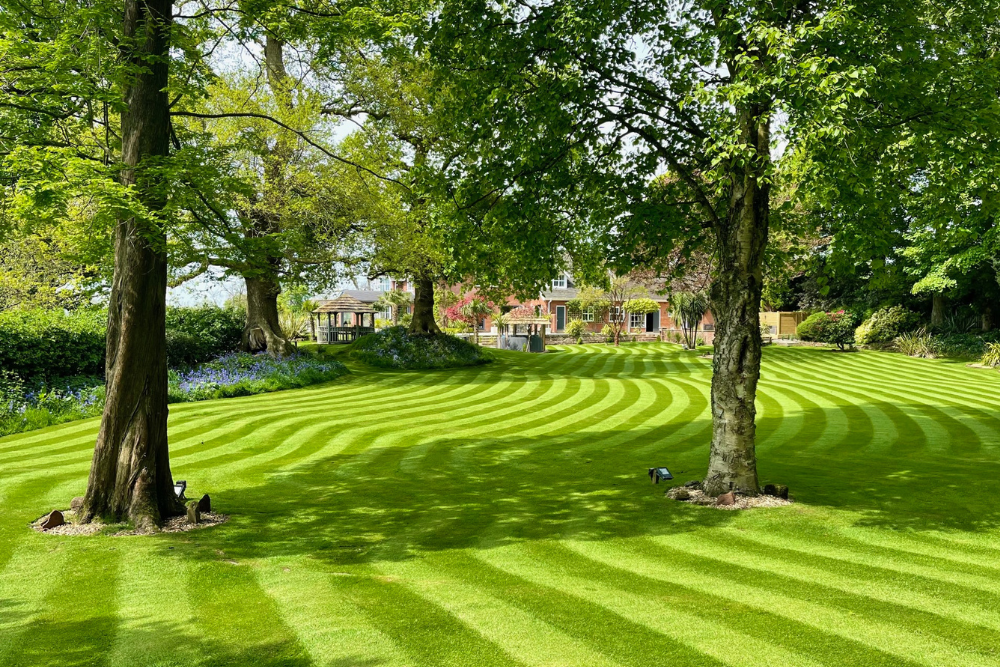 3. Lawn aeration, scarification and feed
I have our lawns professionally fed once per quarter by a lawn care company. A controlled high-analysis summer fertiliser locks away the nitrogen until it receives the water and lasts for up to 8-10 weeks.
NB Avoid cheaper alternatives that don't have an anti-scorch coating! We've had companies use these in the past to our cost. The grass can look burnt if not applied correctly and struggle to recover anytime soon!
Aerating and or scarifying the lawns in either the early spring or autumn is essential for a healthy-looking lawn when you really want it to look fab in the spring and summer.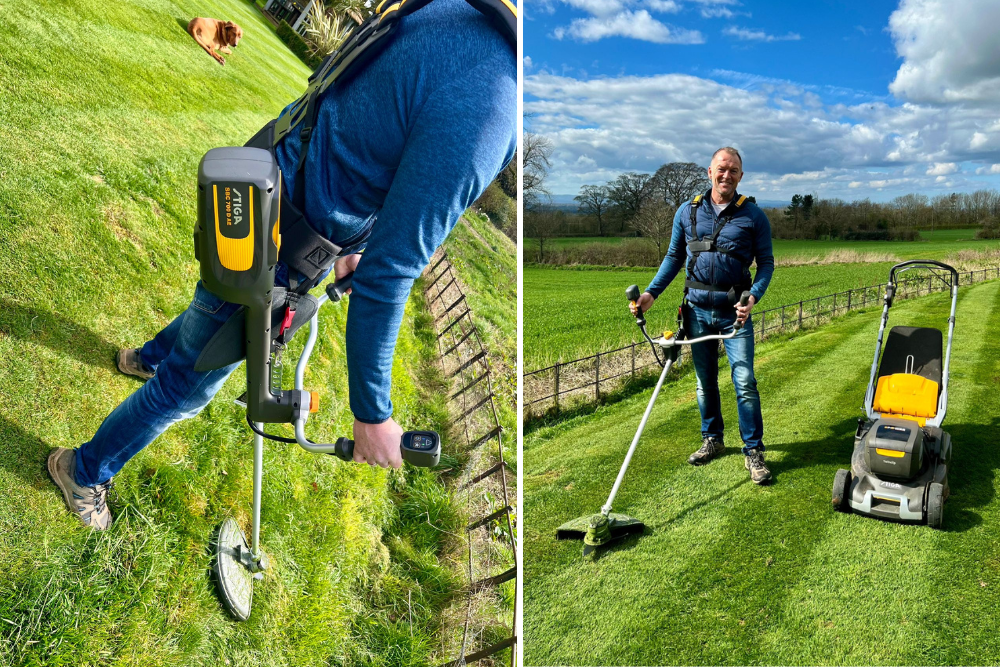 4. The Weather
Cut the lawn around the weather patterns. It's sad but I love just finishing the cut when rainfall is due! This is the perfect scenario for a healthy-looking lawn.
In times of low rainfall try to water the parts of the lawn that's continually exposed to sun on a regular basis. It sound's obvious but you don't need to water quite as much areas that fall into shade for large parts of the day.
I tend to water late in the evening as the sun is dropping and it's a great way to take in the sunsets that we're so blessed to experience here.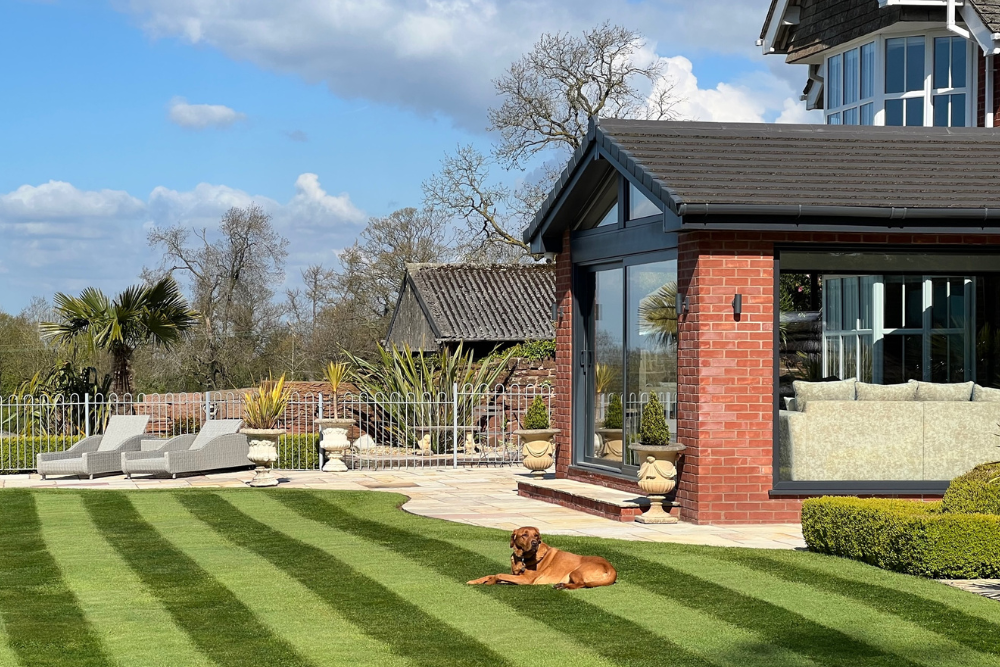 5. Patience is a virtue!
It's taken me several years to achieve the results you can see in the pics here today.
There have been times when I've scorched the lawns, taken chunks of turf out with poor mowers, over fed, under fed, under hydrated and a whole lot more besides! ( and don't even mention the moles!)
But, it's been such a fabulously rewarding journey and I've learned so much from all of the above over the years.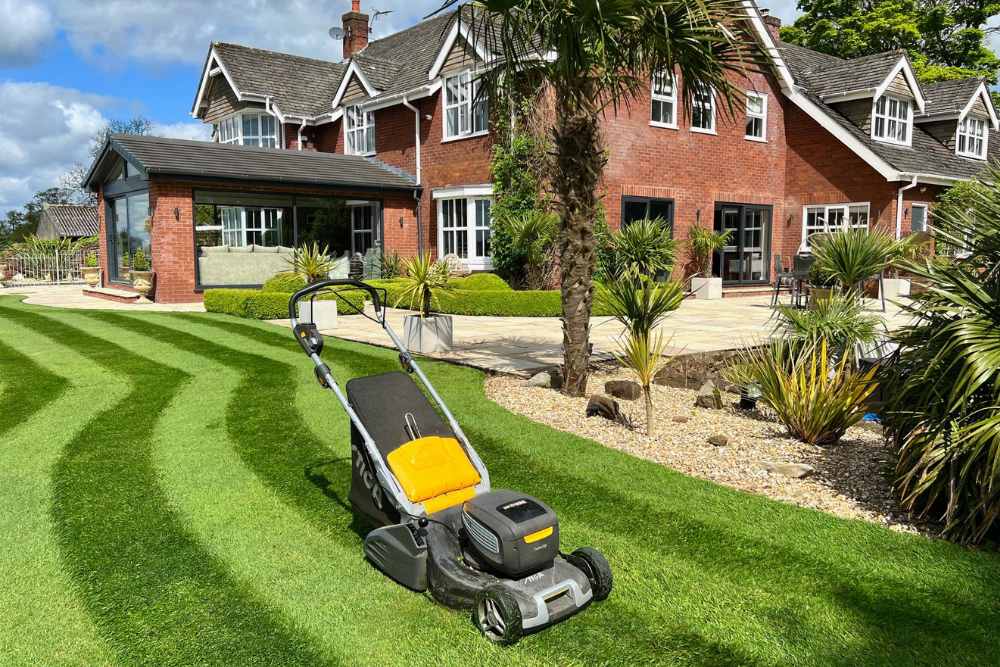 Our lawns and gardens are now featured in lifestyle magazines, tv commercials, music videos and lots more as we've become a Location House for film and photography. (Cheshire Home and Vista)
Little did I imagine through all of the struggles and steep learning curve of gardening that recently I would be stood in a queue in a very well-known high-profile retailer and see a huge backboard image behind the tills of our lawns and garden.
There's hope for everyone!